The Crib Sheet For Cribs
One of the essentials you'll need for baby's nursery is a crib. There are many things to consider when selecting your baby's safe sleep spot. The Hatch offers these tips to buying a crib.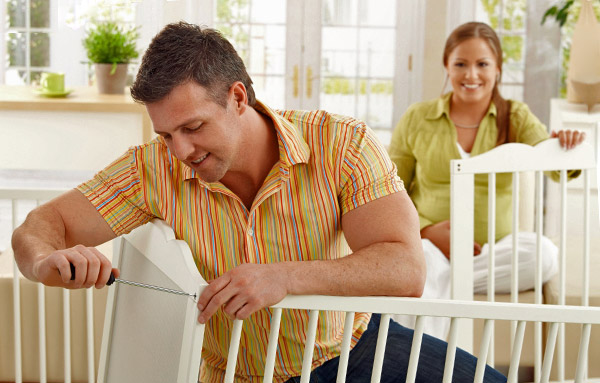 Safety first
Before purchasing any crib, check to make sure it has not been recalled for any reason. You should also ensure that the crib you buy has been certified by the Juvenile Products Manufacturing Association. Most cribs will have a label, sticker or tag that reads JPMA certified.
Slats
The crib's slats should be no wider than 2 3/8 inches apart to ensure safety and prevent baby from fitting through or getting stuck. Bring a measuring tape with you during your crib shopping trip to ensure the slats are not too wide.
Frame size
Check to make sure the crib can easily house the standard size crib mattress, 51 ¾ by 27 ¾ inches wide. You'll want a standard size crib mattress to reduce the chance of baby slipping between the mattress and the crib. Plus, since many crib mattresses can be used with standard size toddler beds as well, this will lengthen the life of your mattress -- eliminating the need to purchase another mattress when your child moves from his crib to his toddler bed.
Stability
Make sure the crib you purchase is sturdy enough to handle your baby. Though he may be tiny today, one day he'll be standing up in that crib… and maybe even trying to climb out! So you'll want to make sure the crib you buy can withstand a little roughhousing. Make sure there are no loose or unstable pieces that could break off.
Modifications
Make sure the crib mattress spring has the ability to lower down to the bottom of the crib for when baby gets old enough to sit up. Also consider buying a crib that can be converted into a toddler or full-size bed when baby gets older.
Out with the old
Remember that safety measures are constantly being updated in the world of baby products. That holds true for cribs and crib products. For example, drop-side cribs are no longer recommended since baby can strangle himself or suffocate between the crib mattress and the detachable drop side. Crib bumpers are no longer considered safe, either, since the American Academy of Pediatrics now deems them as a SIDS risk.
More crib sheets
The new crib safety standards
The safe nursery: Choosing a safe crib
Dangerous baby sleep products: Crib bumper?