Summer Fun With Baby
Just because it's hot outside doesn't mean you have to keep baby tucked inside all day. Check out these fun ways to play outside with baby this summer.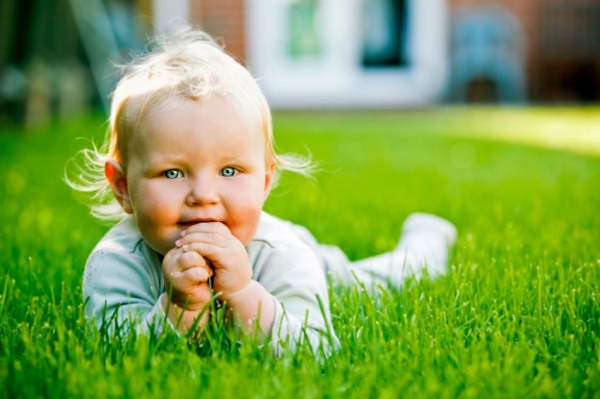 Early outings
Plan your outside outings such as the zoo, farmer's market or neighborhood park in the early mornings before the heat of the day really sets in. Remember even the early summer sun is intense -- slather baby with sunscreen and make sure she's wearing her hat and sunglasses. Pop her in the baby carrier or stroller and get outside!
Shady days
Once the heat of the day sets in, you can still play outside with baby… but pick a shady spot. Lay a blanket out under a big tree and put some toys in front of baby for outside tummy time. This is also a great time to let baby explore new textures -- grass, sand, etc.
Bubble time
Bubbles are synonymous with summer fun. They are cheap and easy, and there's not a baby around who doesn't love bubbles! Check out your store's summer supplies section -- all kinds of fun bubble products are in stock this time of year.
Swingin' fun
If baby needs some chill time, move the swing outside (in the shade) and let him swing to sleep as you tend to the garden or enjoy a little vitamin D and a good summer read. After all, you need some chill time, too!
Floatin' around
You can introduce baby to the pool during the summer, but take precautions. Take your time getting into the pool for the first time with baby – and hold tight! Make sure baby is covered with sunscreen and wearing protective swim gear as well as hat and sunglasses. You can utilize baby floaties (where baby sits in a mesh "seat" surrounded by a floaty), but never rely on this as a type of life preserver and never leave baby alone in a floaty in the pool. You can never be too careful when it comes to babies and water.
Dining al fresco
Take baby outside to enjoy a snack or mealtime al fresco. Set up baby in the Bumbo and let him self-feed yogurt snacks or simply hold him in your lap as you feed him. This is a fun change from putting baby in his high-chair for mealtime.
More summer fun for baby
Playtime for smart babies

5 Great summer outings for baby
Fun outdoor summer baby toys