New Ergo Styles...
And A Contest, Too!
Ergobaby is a longtime favorite of moms, dads and babies everywhere. The ergonomically-designed baby carrier is a must-have from at home to Hollywood, and they're getting ready to launch two new styles along with a fun contest. Read on!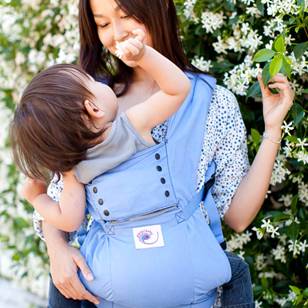 Inspired by the great outdoors -- and possibly a zoo near you -- Ergobaby has launched two new styles of their famous carrier.
Ergobaby's wild side
The Original Zebra Carrier ($120) is made from 100% cotton canvas and features a soft cotton poplin black hood. The other carrier, called the Original Collection Outback Carrier ($115), is made from extra soft brushed cotton canvas and features a soft cotton sateen black hood.
About the Ergo
Ergobaby carriers, commonly known as "Ergos" in the parenting world, are extremely popular with parents because they allow you to wear your baby with ease. Parents report that wearing their little one in an Ergo is painless and totally comfortable and makes walking around carrying your little one a breeze.
"It is wonderful," said Kayte, mom of four. "It doesn't hurt. You can use it to hip, back, or front carry. I've used it at Yellowstone to carry a tired 4-year-old on my back while holding my 1-year-old in my arms."
Buy an Ergo and win
From June 1st through the 15th, if you purchase one of these two carriers at a participating location, you can enter for a chance to win a family day pass at a local zoo.
"Spring is the perfect time for parents and their children to go outdoors and enjoy a family activity together," said Cathy Dean, Global Brand Director of Ergobaby. "We know how much young children love animals so we thought this would be the perfect opportunity to collaborate with our local retailers and local zoos while also promoting our new animal and outdoor themed baby carriers."
The contest ends June 15th, and participating stores will draw three names at the end of June, so don't delay if you want to get in on the zoo action!
Find out more at Ergobaby's website: ergobaby.com
Editor's note
I loved my Ergo and relied on it heavily when my daughter was a baby. Without it, I probably wouldn't be sane today! She refused to be set down - ever - and the Ergo saved me. Having back and neck issues from Lupus, the Ergo was the only carrier I could use for hours on end. I will always be a fan... even though my "babies" aren't babies any more! -- Laura Willard
More on baby wearing
Baby wearing
7 reasons to wear your baby
Consider spinal stress when selecting a baby carrier