Dad And Baby Bonding
When you first welcome baby, new dads may have a hard time finding their way with their new bundle. The Hatch offers some ideas to help Dad pitch in and bond with your new addition.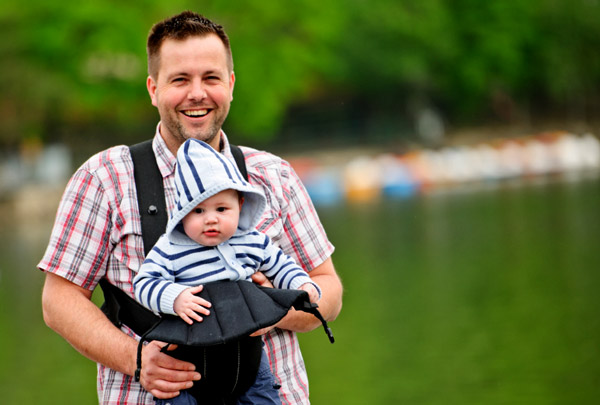 Let them adjust
You've been bonding with baby in utero since you discovered you were pregnant. But it's likely that fatherhood didn't really "hit" your man until baby actually arrived. So while you may feel you already know your child, Dad and baby may need a little time to get to know one another. If you baby cries when you hand him off to dear old Dad, don't immediately take him back. Sit nearby and let the two of them work it out.
Share duties
Let's face it – newborns do few things: eat, sleep and poop. And if you're breastfeeding, you've got dibs on the first chore... and he may not volunteer eagerly to help out with the last on the list. But he can still lend a hand.
Start pumping milk into bottles so Dad can take a turn feeding baby every now and then. This is a great way to Dad and baby to bond (just as it is for your and baby), and getting baby adjusted to the bottle at birth will help him down the line when bottle-feeding is a necessity.
An added bonus: While Dad feeds baby, you can grab a shower, take a quick 10-minute rest or simply revel in watching your man feed your newborn (Awwwwwww…).
Dad can also share in bathing, rocking, soothing and changing baby. This lets baby know that he doesn't have to have mom for all the basics of life. And it gives dads the confidence to handle getting baby down for the night (or at least a few hours!) or change him without summoning a major meltdown.
Dad-and-baby fun time
Don't just assign chores to promote bonding. Encourage Dad to read to baby (it's never too early!), show him early development toys, take him for a walk in a baby carrier or simply enjoy cooing and smiling at the new addition in your lives.
More bonding with baby
How to deal with new dad concerns
Dad's involvement in your baby's life
8 Ways for dads to bond with baby