Is There Ever A Good Time?
Babies 6 months old and under do well exclusively with breast milk or formula. But after that, moms may wonder if their little ones can drink juice. What's the deal with babies and juice, and when can they drink it?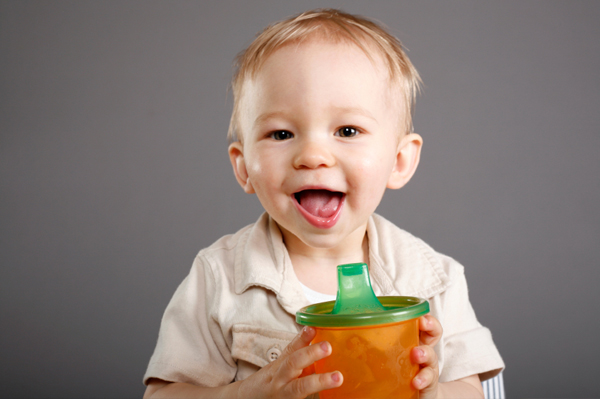 You may have noticed those adorable little bottles of juice in the baby food department and wondered if it was time to let your baby have some. After all, they come from reputable baby food companies, right? So that must mean they are good for babies.
However …
Giving a baby juice isn't really nutritionally sound. Juice is pretty empty calorically, which means that his tiny tummy, full of juice, will be missing out on valuable nutrition because he will be too full to nurse, have a bottle or experiment with solid food.
Water it down
If you do choose to give your little one juice, wait until he is at least 6 months old. Just like with solid food introduction, your baby doesn't need food or drink before then besides breast milk or formula. Ideally, though, you might want to wait until he's a year old, or even older. Avoid putting it in a bottle if you can -- try to get him trained on a sippy cup so he can't lay down and nip on a bottle of juice.
And when you do give your baby some juice, water it down. Aim for half and half if you can. Juice can be acidic, and also can contain many empty calories, so keep the servings lighter with less juice.
Avoid a juice lover
Some kiddos just love juice and will drink it all day long. Juice is sugary (even 100 percent juice has lots of naturally-occurring sugar), can cause cavities and be a major tummy-filler. So it wouldn't be a horrible crime to avoid juice altogether, or keep it as a rare treat (like at grandma's house).
When he's older, he can drink juice with breakfast, but if you don't keep it as a staple when he's young it may be no big deal to him in the first place.
More on baby food
How to make quick and homemade baby food
When should you introduce baby food?
The benefits of making your own baby food