Weather, Germs And Grabby Hands
You may be eager to take your baby out in the first few weeks, or it may be an absolute necessity. What do you do about the elements? And how do you keep your newborn germ free?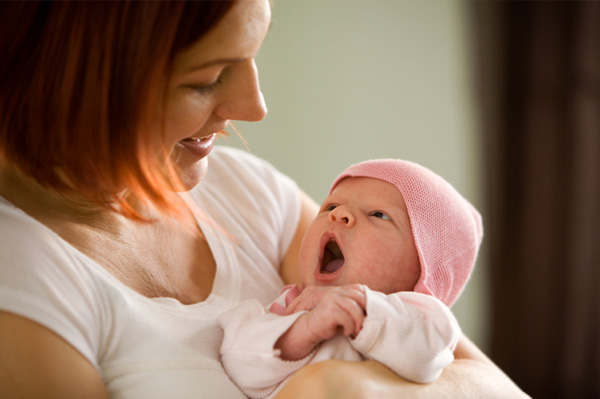 Family gatherings, essential shopping trips or showing her off to your co-workers may be on your agenda in the weeks following your baby's birth. If you don't have anyone to do you shopping for you (or you didn't stock up before your little one arrived) you will soon be learning how to grab your groceries with a babe in tow. With your excursions come questions -- will I be able to keep her warm enough, will she get too hot, what about germs, and why can't people stop touching her?!
Wear your baby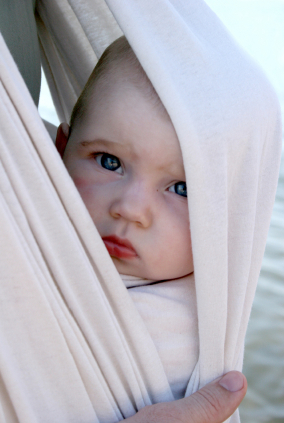 One way to keep strangers at baby is a good-quality baby carrier. A popular option when your baby is small is a stretchy wrap like a Moby. Your baby will be snuggled up next to you, up high on your chest, with no tempting baby hands for curious bystanders to squeeze. Wraps will also help regulate your baby's temperature by keeping her close, which naturally will keep her warm in the winter months and cooler in the summer.
You'll want to practice wrapping her at home because there is a small learning curve -- but once you get the hang of it, it's easy peasy. It's tempting to leave your baby in her bucket car seat (or even pop the seat onto a stroller if it has that capability) but wearing your baby will help keep her calm, whereas a stroller ride may cue a fussy baby.
Gatherings
Family gatherings are sometimes a must-do. We had a belated Christmas gathering when my youngest was 9 days old. It was originally planned for Christmas Eve, but that was the day she decided to join our family (in the middle of a blizzard, no less). As a fourth-time mom, I was more at ease with joining my extended family with my newborn, but if you're not, your friends or family should understand that you'd like to keep your little one at home for a few more weeks. Childbirth is also serious business -- resting and recovering at home while you get to know your baby is a legitimate reason to postpone the festivities.
Newborns are resilient, but keeping her away from germ-infested hands in the beginning weeks is a good idea. Their immune systems are still quite immature and they likely haven't had any vaccinations yet, so keeping them away from the bulk of the public, if you can, isn't a bad idea.
More on baby
Pick the right baby carrier for you
Top 4 safe baby carrier options
10 Ways to bond with your baby