The Great Binky Debate
Regardless of whether you decide to pacify your baby with a binky, there is no doubt that most parents have a strong opinion about why you should or shouldn't use a pacifier.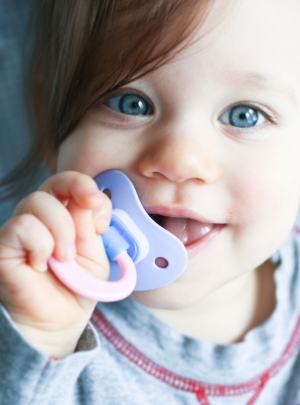 But don't let others' pacifier opinion determine yours. The Hatch shares some pacifier pros and cons to help you decide if using a pacifier is the right thing for you and your baby.
Pro: Pacifiers can soothe colicky babies
There is nothing worse than hearing your baby's constant cries knowing there is little you can do to soothe her sobs. Sometimes a pacifier may work to calm a colicky baby.
Con: Babies can form a pacifier habit
Babies can easily get attached to sucking a pacifier and begin to use it as a lovey. Once a pacifier becomes something your child depends upon for comfort, it becomes harder and harder to take said item of comfort away . While there is nothing wrong with a baby using a pacifier, you don't want your toddler or young child using one. And the longer it goes on, it will only get harder and harder to break the paci habit.
Pro: Pacifiers could prevent SIDS
According to MayoClinic, research shows a link between the use of a pacifier during sleep and a reduced risk in SIDS. Need we say more?
Con: Prolonged use of a binky could lead to dental problems
Babies using a binky should have no problem with the pacifier causing dental problems. However, if your child continues to use a pacifier, it could result in a disturbance of the way his teeth grow in.
Pro: You can take away a binky
Of breaking bad habits such as sucking a binky or a thumb, you need to consider which will be more difficult down the line. After all, you can pitch a paci but you can't toss a thumb! When it comes time to breaking the sucking habit, pacis are definitely the lesser of the evils.
Which side of the great binky debate are you on?
More pacifier news
First friends: A pacifier attached to a plush toy
Are you a human pacifier
High-tech pacifier being tested in hospitals may help preemies