Lock Failures Prompt Recall
If you have cabinet or toilet locks in use in your home, you'll want to double check the brand and model -- there has been a recall of Safety 1st safety devices. Read on to see if yours are affected.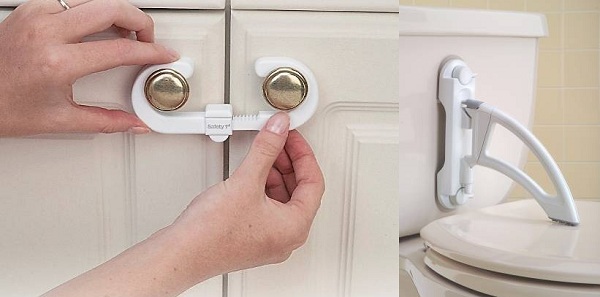 The CPSC and Health Canada, in cooperation with Safety 1st, have issued a voluntary recall of over 800,000 cabinet and toilet locks due to failure of the mechanism, exposing young children to water and safety hazards.

Product Description: This recall involves approximately 183,000 Safety 1st toilet locks and 685,000 Safety 1st cabinet locks.
The first part of the recall deals with Safety 1st Sure Fit toilet locks with model numbers 48003 and 48103.
The second deals with Safety 1st cabinet slide locks with model numbers 12013 and 12014.
You can find the model numbers on the back of each type of lock.
Where/when it was sold: Both items were sold through Burlington Coat Factory, Great Beginnings, Home Depot, Target and Walmart, as well as online through Amazon.com. The toilet locks were sold from January 2005 through April 2010 and the cabinet locks were sold from January 2000 through March 2009. Amazon sold both through April 2012.
Reason for recall: The American importer, Dorel Juvenile Group (DJG) has received 110 reports of toilet locks that did not keep the lid closed, as well as reports that eight children, under the age of 2, who were able to undo or break the lock. DJG has also received 278 reports of slide cabinet locks that did not properly secure the cabinet, including 71 reports of children between the ages of eight months and five years old who were able to successfully undo them. In one incident, a 13-month-old boy swallowed small, toxic beads from a craft kit (he was hospitalized, observed, and recovered fully).
What you need to do: Stop using the recalled locks and contact DJG for a free replacement lock.
Company information: DJG can be contacted toll-free at (877) 416-8105 between 8 a.m. and 5 p.m. ET Monday through Friday, or visit their website at www.djgusa.com.
More recalls
Recall: Tots in Mind crib tents
Recall: Kolcraft Bassinets
Recall: Target Bunny Sippy Cups
Image credit: USCPSC