Flaunt Your Bump This Summer
Bathing suit shopping is hard enough without adding a baby bump to the deal! But we think maternal mamas look darling when they flaunt their bodies by baby in their summer swimwear. So what should you look for when looking for a maternity swimsuit? The Hatch helps you out…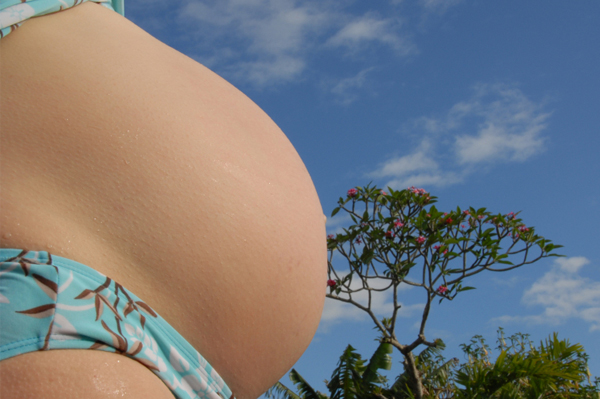 Room to grow
If you purchase a swimsuit at the beginning of your pregnancy, keep in mind that it may not fit by summer's end! Your belly does a lot of growing in a short amount of time, so you may need to purchase a few different styles or sizes to dress your bump in summer wear all season long.
Extra support
One of the best benefits of pregnancy is simply this: Along with that growing belly comes growing cleavage! Show off your new lovely lady lumps in a halter-style maternity suit that has wide, adjustable and supportive straps along with padded underwire or shelf bra support for the girls.
One piece
If you're shy about showing off your bare bump, stick to a one-piece style swimsuit. It doesn't have to be boring just because it's a one piece! Go with a bold pattern like geometrics, fun colors or whatever you feel most comfortable wearing.
Tankini
Tankinis are great because often a maternity bottom may last you throughout your pregnancy (as they fit snuggly below your bump) so you can simply add a fun new tankini top to adjust to your growing bump. (Be sure to stick to a solid like black maternity bottoms so you can match them with several top options).
Bikini
You know what they say: If you've got it, flaunt it. And, girl, you've got it! So why not rock your bump in a cute maternity bikini? Be sure that the sizes are ideal for your new body – not your pre-baby one. What we're saying is, showing off your baby bump in a bikini is cool… but you don't want to show off too much of your other pregnancy curves.
More on dressing your bump
Maternity fashion tips
Maternity swimwear: What's hot for pregnant moms
To bare or not to bare: Wearing a swimsuit while pregnant