Several Models Recalled Due To Fall Hazard
If you have a Kolcraft bassinet, take note -- the company has recalled nearly 50,000 of these nursery favorites due to a potential fall hazard. Read on to find out if your baby's bassinet is included in the recall.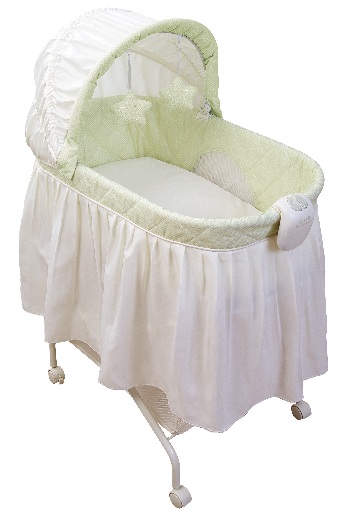 The U.S. Consumer Product Safety Commission, in cooperation with Kolcraft, has recalled approximately 46,000 Kolcraft Tender Vibes & Light Vibes bassinets.
Product Description: This recall involves four Kolcraft bassinet models. Around 46,000 Kolcraft Tender Vibes & Light Vibes bassinets are targeted in this recall, and a repair kit can be obtained from the company.
The recalled Tender Vibes bassinets have the following model numbers and descriptions:
KB021-ARC Tender Vibes Travel Bassinet (lime green cover)
KB022-VER Tender Vibes Travel Bassinet
KB039-CMR1 Tender Vibes Deluxe Rocking Bassinet (polka dot cover)
The recalled Light Vibes bassinet has the following model number and description:
KB043-BNT1 Light Vibes Deluxe Rocking Bassinet
A label with the model/item number of the bassinet is located on one of the legs of the metal frame.
Where/when it was sold: These were sold from July 2008 through May 2012 in stores nationwide as well as online with prices ranging from $50 to $100.
Reason for recall: Even though it appears that the latches that attach the bassinet to the metal frame are locked, they still may be unattached. CPSC and Kolcraft have received seven reports of latches that detached from the bassinet frame. One baby suffered a bruised cheek when the bassinet detached from its frame and landed sideways on the floor.
What you need to do: Stop using the recalled bassinet immediately and contact Kolcraft for a repair kit. The kit will include straps along with instructions on how to attach them to the bassinet to prevent the frame from coming unattached.
Company information: Contact Kolcraft at (888) 624-1908 between 7 a.m. and 6 p.m. ET Monday through Friday or visit their website at www.kolcraft.com.
More recalls
Recall: Target Bunny Sippy Cups
Recall: Safety 1st Cabinet Locks
Recall: Kelty jogging strollers
Image credit: USCPSC