Hand And Footprint Keepsakes
Is there anything cuter than your baby's first hand and footprints? Those little extremities grow so fast, but you can forever remember your baby's tiny prints. From simple paintings to clay imprints, check out some fun ways to commemorate your baby's birth.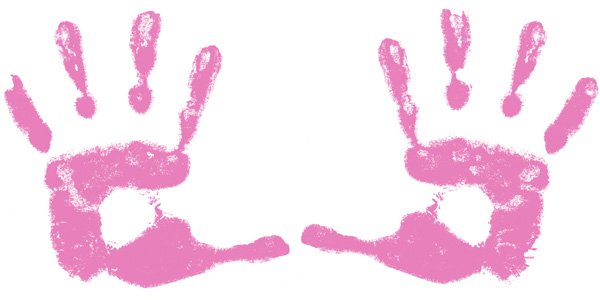 Canvas
It's so easy and cute to do your baby's footprints on a simple canvas… I'm not sure why more people don't do it. Choose whatever sized canvas you want from a craft store (big ones look cool with footprints "walking" across and little ones are perfect for two tiny hands). One at a time, brush your baby's hand or foot with washable paint in any color you choose (a hue to match the theme colors of baby's room or classic pink or blue, for example). Then gently press the hand/foot on the canvas and lift up directly. Clean that extremity and you're ready for the next. Don't forget to date the canvas on the front or back.
Ink prints
An ink print kit is maybe the easiest way to preserve your baby's precious prints. Look for one that says "baby safe ink", such as this one. The kit includes everything you need -- as well as instructions -- to get your baby's prints in ink. Enclose these in a special frame and put them on display!
Clay
With a clay keepsake kit like this one, you can preserve baby's hand and footprints in 3-D! Clay kits, as ink kits do, will come with everything you need (and everything you need to know) to create your baby's prints in clay. The products are non-toxic and safe, so there's no need to worry about baby's skin. Keep in mind that it takes about three days for the clay to dry completely. If you are making these for a gift, start early!
Baseball
I don't know a dad out there who wouldn't melt if handed a baseball with his newborn child's handprint on it. You can use baby-safe ink or paint for this project. Simply cover baby's palm and fingers in the ink or paint, then press gently but firmly onto the baseball, ensuring the entire print transfers. Wash baby's hand afterwards and set the baseball in a safe place to dry.
More baby keepsakes
Newborn keepsakes

Keeping the memories alive

Baby art project fun