Never Lose A Binky Again!
First Friends is the company behind a new, must-have baby accessory -- a pacifier attached to an adorable, soft toy. Why didn't we think of that?

Look what we discovered! This unique and totally adorable pacifier and stuffed animal combo is the bee's knees. If you're like many moms, you know that pacifiers are loved and lost on a regular basis. They can be hard to find in the bottom of your diaper bag or behind your sofa. So how cool is a pacifier that is already attached to a sweet lovey?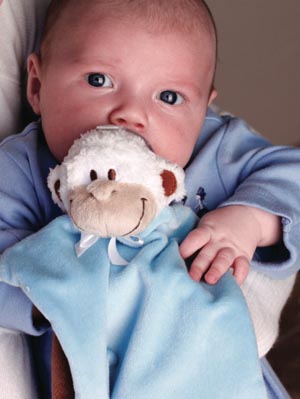 Developed by two moms, this unique item has more than one benefit. You may have heard of a baby or toddler who becomes completely attached to his binky. With First Friends, you have a soft stuffed animal for your child to associate comfort and soothing with -- one that can stick around after the pacifier has been retired. This can make one of baby's hardest transitions a little smoother for everyone involved.
It's a win-win situation. The pacifier, by virtue of being joined with your baby's new favorite lovey, is incredibly easy to find. The pacifier also may stay in baby's mouth easier, limiting the middle-of-the-night pacifier treasure hunts in the dark. My little ones didn't ever take to pacifiers but I clearly remember trying to hold a pacifier in my baby's mouth while we both slept. It was not a fabulous combination and often resulted in failure and frustration for both of us.
Features
The pacifier is made from latex-free medical grade silicone and does not contain polycarbonate or epoxy
The pacifier is detachable and is dishwasher safe
The plush toy is size just right for baby's hands -- 9.5" in length and 4.5" in width
The animal is machine washable
It comes in nine different designs
Also available in gift sets with a First Friends book
For more information, you can check out myfirstfriend.com.
More on baby accessories
How to get rid of the old pacifier
Binkies, blankies and bottles: Understanding security items
Eight ways to "fashizzle" your baby