Fur Baby Meets Human Baby
Before many couples become parents, they are pet parents. Those four-legged friends often serve as the "baby" before the real baby arrives. So when you decide you are ready for a human baby, how do you include your fur baby in the mix? The Hatch shares some tips on how to prepare your pet for baby's arrival.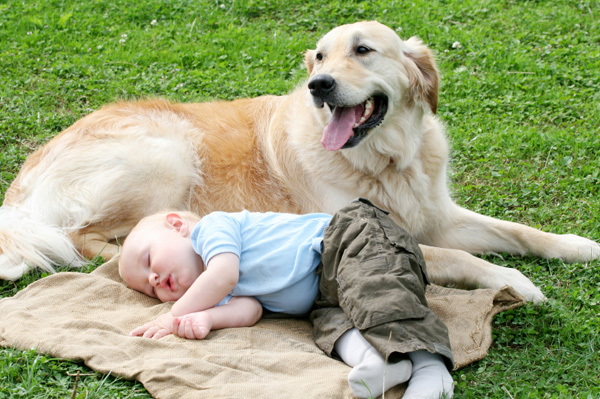 Your fur baby may experience "sibling rivalry"
Understand that your pet is used to being the center of your world, and he'll immediately become second to your new baby. According to the Human Society, you should try to gradually spend less time with your pet before Baby arrives and allow other members of your family to take a greater role in the pet's life. That way, when Baby is here, your pet is already accustomed to spending less time with you yet he is not being neglected because of the new baby.
Smooth out any behavioral issues ASAP
If your pet has any behavioral "quirks" (such as anxiety, jumping up, etc.) it is best to get them ironed out before the baby arrives. Consider an obedience class to ensure your pet is very well trained to follow your commands.
Get your pet used to baby smells/sounds
With the introduction of a new baby comes a whole slew of strange new things for your pet such as sounds (crying, cooing, babbling) and smells (baby powder, oil, and, ahem, dirty diapers). Acclimate your pet to those things before Baby's arrival with either a recording of those sounds and using baby products yourself or by inviting friends with babies over to interact with your pet.
Baby comes home
When you bring your baby home, be sure to say hello to your pet with the kind of greeting he is used to from you. Give the baby to another member of the family for a little bit so you can have some alone time with Fido. When your pet is calm, have him sit by you while you are holding your baby and let him get used to the new being in his life.
Give your pet some special attention each day
If you walk your dog each day, try to maintain that routine for him. With the help of a baby carrier or a stroller, this can be a wonderful experience for Baby too. When Baby is napping, make sure to spend some quality time with your pet to remind him he's still a special part of your family.
More on baby and pets
Kids and dogs: Things change when your baby learns to crawl
Multiple pets may decrease children's allergy risk

Is my kitty jealous of the new baby?