It's Not Only Easy, But Fun
Cloth diapering may sound like a lot of old-fashioned work, but modern moms are realizing just how easy it can actually be. Read on to find out why!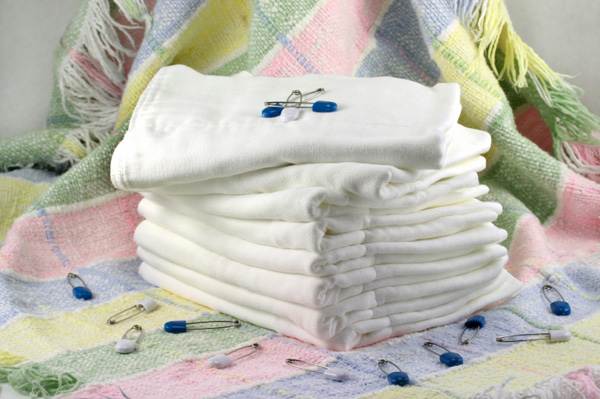 I'm a cloth diaper junkie, so it's hard to whittle down the reasons to a mere four, but here are my favorite reasons to cloth diaper.
Easy on the pocketbook
Cloth diapers are way easier on your pocketbook than disposable diapers. Sure, the up-front costs may seem intimidating -- you can spend a couple hundred, if not more -- but if you spread that cost over the length of your pregnancy, for example, it's easier to bear. When you think about it, you can spend thousands over your child's diaper-wearing phase, so it makes more financial sense to use cloth.
Easy on the environment
Disposable diapers can take forever to decompose, if at all. Just because you throw something away doesn't make it disappear -- each child's contribution to landfills is staggering. In 2005 alone, 3.6 million tons of disposable diapers were added to the world's landfills.
Easy on your laundry routine
Believe it or not, diaper laundry is fun. I may sound like a crazy woman for saying that, but I'd rather wash diapers than anything else, even cute baby clothes or the simplest laundry in the world -- towels. Call me a geek, but it's almost fun assembling the pocket diapers, folding the fitted diapers and finding a place to neatly stack it all.
Easy on the eyes
Diapers are cute in the laundry basket, but they are way cuter on a baby's bum. Modern cloth diapers come in your favorite colors, feature your favorite patterns and give your baby the cutest, fluffiest bottom in the world. Cloth diapers, surprisingly, can become collectibles -- I've seen some go for hundreds of dollars in an online auction. Fortunately, even some of the most basic types are super cute, so you don't need to spend a lot of money to have a fabulous cloth diaper stash.
More on cloth diapers
Cloth diapering without a washer and dryer
The new wave of cloth diapers
Save money by using cloth diapers