Picking A Practical Diaper Bag
A diaper bag can be stylish and practical -- you just need to make sure you get the features you want and need before you splurge on the diaper bag that looks cute. I got a new diaper bag recently, and I'm so impressed by the features that I decided to share some important tips about buying one.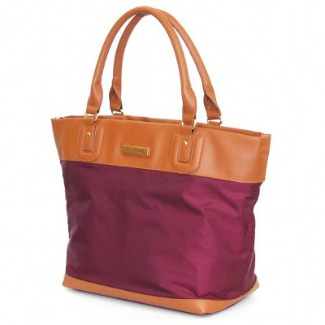 I'm going to use my newest diaper bag from Perry Mackin to illustrate why it is so important to purchase the right one for your needs.
Main storage
Without taking the kitchen sink with you everywhere you go, make sure you have enough open storage space inside your diaper bag.
My Perry Mackin Alexis bag is considered a soft structured diaper bag, so it can hold up to two day's worth of baby necessities -- and it zips at the top to keep it all in, while still fitting in a stroller basket.
Zippered pocket storage
Zippered storage areas are so important in a diaper bag. These are the places you'll likely store your personal essentials -- lipstick, wallet, cell phone, etc.
The Alexis diaper bag has an outer zippered pocket, where I keep my snacks and sunglasses, and a detachable zippered pouch, where I keep my cell phone, wallet and chapstick. The detachable pouch works as my mini-purse while we are out and about because it's easy to locate inside the bag.
Easy-to-access storage
A diaper bag must have easily accessible storage pockets inside the bag for wipes, diapers, loose items (like itty bitty socks), etc. These storage pockets basically act as dividers so everything doesn't end up in a jumbled mess.
Some diaper bags also come with insulated bottle holders. I use mine for my water bottle when I work out to keep the rest of the bag's contents from getting wet by contact.
Changing pad
Unless you purchase a tote or handbag that can be used as a diaper bag (which I've done in the past), all diaper bags should come with a changing pad. Just make sure the changing pad is large enough to protect your baby (and the surface) and that it stores easily inside the diaper bag.
Carry-ability
I need multiple carrying options when it comes to my diaper bags. Depending on where we are going or what we are doing, some days I like to carry it like a tote, and some days I like to sling it like a messenger bag. Look for a bag that has an adjustable and detachable shoulder strap if you like carrying options. Trust me, once you get your baby in your arms, on your hip or in a stroller or carrier, you will need options.
Attach-ability
Every diaper bag should have stroller hooks. If they don't, they should have a specific place or attached rings to attach stroller hooks to.
Because the Alexis bag has a removable shoulder strap, it has attached rings on the inside of it. I use my Petunia Pickle Bottom valet stroller clips, and I'm a happy mama.
Caution: Most stroller manufacturers advise against hanging your diaper bag on the stroller. I use my best judgment and never hang a bag from a lightweight stroller.
Fabric
Look for something easy to clean (preferably waterproof) and dries quickly. You'll need to be ready to go out the door at a moment's notice -- with your diaper bag.
Style
Hopefully, the diaper bag you adore also comes with the features you need! Don't be afraid to pick a diaper bag that represents you. I proudly carry a pink diaper bag even though I have three boys.
More on diaper bags
Top 10 cool diaper bags for dads
Diaper bag essentials
Green your diaper bag