Stay Healthy While Eating For Two
Morning sickness, fatigue and other physical discomforts might keep you from filling your plate with the healthiest food while you're pregnant. Read on to find out five easy ways to stay on track.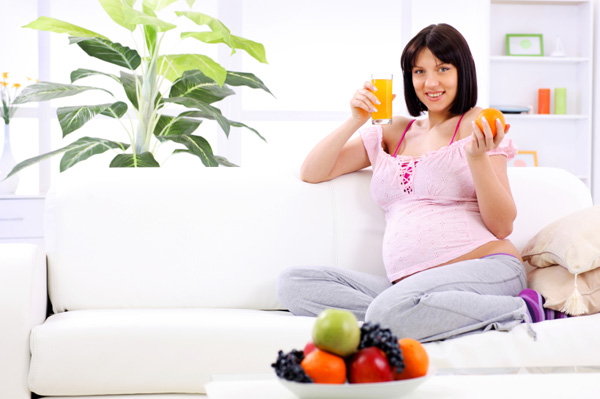 Pregnancy is exciting, but it is also emotionally overwhelming, uncomfortable and possibly nauseating. It can seem daunting to keep yourself on track nutritionally if you can only choke down a few saltine crackers before heading off to work. If you keep these tidbits in mind, you may find a way to have a better prenatal diet.
Take that vitamin. Prenatal vitamins are a good way to fill in any nutritional void caused by your lack of appetite -- or mad cravings for ice cream sundaes. If you can't tolerate traditional prenatal vitamins, ask your practitioner for a chewable version, which is often easier on the tummy.
Eat small, and eat often. If morning sickness is a problem, you don't want to eat a few large meals, as it can be too much on a tender stomach. Choose to eat lightly throughout the day. Keep protein-rich snacks nearby, such as pumpkin seeds, string cheese or yogurt. Raw fruits and vegetables make great snacks, too.
Don't deprive yourself. If you crave nachos, don't pine away dreaming of them if you really, really want them. Give in to a small portion occasionally. Small indulgences are OK in moderation. Of course, if you have gestational diabetes or other dietary restrictions, you'll want to speak with your practitioner first.
Avoid buying junk. Try to keep junk food out of your house. Yes, junk food is delicious and often requires little to no preparation, meaning it can be tempting to turn to if you're exhausted and don't want to cook, but if it's not in the house in the first place, it can be easier to avoid.
Drink water. It sounds simple, but you need tons of water to stay hydrated during pregnancy. Soda and tea don't count, unfortunately, so make your water more fun by keeping it chilled, adding a little lemon or lime for flavor or buying a hip new water bottle to keep at your side.
More on pregnancy
The importance of DHA during pregnancy and breastfeeding
Gall bladder problems during and following pregnancy
How safe is gardening during pregnancy?