Don't Rock The Hormone Boat
A pregnant woman's body is chock full of ranging hormones. The last thing she needs is unsolicited advice or to be told she's gaining too much weight. Here's a short list of things you should never say to an expecting mother -- unless you have been best friends since you were 2 and can talk openly about these things.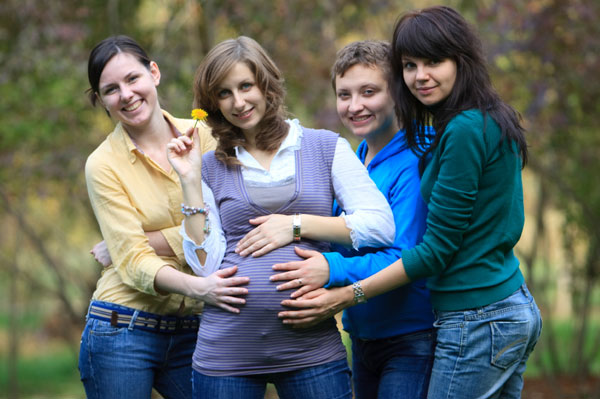 1. It's so much harder to lose the baby weight after the second baby.
Yes, it can be harder to lose the baby weight after multiple children and as you age, but it also depends on genetics, metabolism and willpower of the expectant mother.
2. I hope he doesn't get your husband's nose!
The pregnant woman married her husband for love, and she will love and bond with her baby no matter what he or she looks like. Don't flood the new mom's head with negative associations -- her hormones are fragile enough.
3. Are you planning on breastfeeding or bottle feeding?
Why does it concern you? If the mom-to-be asks you for advice on latching or which bottle you like best, then offer up your advice.
4. My friend is a really good nutritionist -- do you want her number?
Don't imply your expectant friend is gaining pregnancy pounds at a rapid pace -- unless you're a really close friend and can discuss your concern with her and her baby's best interest at heart.
5. I'm sorry you didn't get a (boy/girl).
Gender disappointment is a real thing for some parents. Don't add to the emotions with your feelings or comments unless your pregnant friend comes to you for advice or a shoulder.
6. Because you have all boys, are you going to go for the girl next time?
I'm a mom of three boys. From the moment I found out I was expecting a third boy, I got questions and comments about having a fourth -- a girl. Hospital staff even asked me when my baby was hours old.
7. When will you have another one?
Unless you're planning on raising subsequent children for the mom who has yet to birth her first baby, why would you ask the future plans of another family?
8. Are you having twins?
Just don't ask this question. Ever.
More on pregnancy and friends
Creative ways to tell your family you're pregnant
How to stay friends with your childless friends
Breaking the news to an infertile friend