Preventing Common High Chair Accidents
With more and more high chairs being approved for use from birth, it's even more important to know and follow the manufacturers' guidelines and general safety tips to ensure your baby is safe.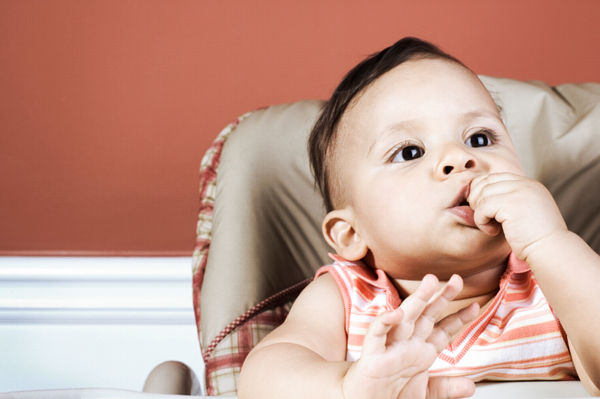 Check your high chair's manual
Some newer high chairs accommodate a newborn baby or have an additional accessory to accommodate a newborn baby: These high chairs are the only high chairs that can be used with small babies. Never assume just because the high chair seat back lays nearly flat that it's OK for your small infant. It's important to always check and follow your high chair's manual for age and weight minimums and the safety tips provided by the manufacturer.
Secondhand high chairs
If you purchase or receive a hand-me-down high chair -- even from a reliable source -- check for safety recalls before using it.
It's also a good idea to inspect the entire seat to make sure the chair frame, pieces and safety straps are assembled properly and are in perfect working order.
General high chair safety tips
The American Academy of Pediatrics' parent resource website, Healthy Children, has a list of safety measures for parents and caregivers. Follow these tips along with the safety recommendations in your high chair's manual.
Never leave your child unattended in the high chair.
Never allow other children to climb or play on the high chair.
Always use the high chair's safety straps.
Always use the crotch strap to ensure your child doesn't slip forward, causing serious injury or death.
Never allow your child to stand in the high chair.
Check your high chair to make sure it doesn't tip easily.
Do not place your child's high chair near a counter or table: Because of the height of the high chair, your child can push off these surfaces and tip the high chair.
If you use a folding high chair, make sure it's properly locked in place before using it and properly locked closed (or stored out of baby's reach) to avoid injuries.
A high chair that securely hooks to the side of a table is not a proper substitute for a freestanding high chair. Use a hook on chair for travel or while eating out and make sure the table is heavy enough to hold the hook on chair and your child's weight before using.
More on high chairs
New BABYBJÖRN high chair
HiLo high chair by Age Design
Four places germs hide