Encourage A Natural Bond With Your Child
Bonding with your newborn is an important part of a child's development and parenting. These tips can promote and strengthen the bond between you and your baby — and most of them can and should involve dad, too!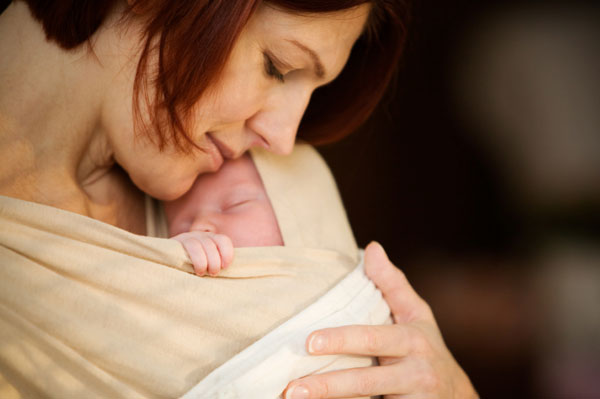 Skin-to-skin contact
The body of a mother is designed to naturally regulate the temperature of an infant — giving her baby the perfect amount of warmth and security. Placing your baby skin-to-skin on your chest not only creates a strong bond, it helps calm and soothe a tired or agitated baby when the baby is placed near your heartbeat.
Breastfeeding
Breastfeeding gives mother and child close skin-to-skin contact multiple times a day. Breastfeeding is not only best for baby nutritionally, it can help reconnect mother and child during busy and/or stressful days.
Baby wearing
Wearing your baby in a front carrier or wrap automatically brings mother and child closer together and enables the mother to touch, kiss, caress and talk to her baby naturally and organically throughout the day.
Infant massage
A gentle massage (with or without baby lotion) is a great way to soothe and bond with an infant. Gently massaging can also help provide relief for a colicky baby.
Talking or story telling
Talking to your baby is an essential part of bonding. Tell your baby what you are doing throughout your day or sit with your baby facing you and tell him a story. Babies, even at a very young age, love listening to their parents' voices and seeing their parents' facial expressions.
Tummy time
When your baby is on the floor practicing tummy time, get on the floor facing your baby to encourage bonding and physical development.
Holding baby
The housework can wait! When your baby is awake and alert, take advantage of that precious time to hold and comfort your child.
Bathing
A warm bath — provided your child is calmed by bath time — along with mom and dad's voices and smiles, gives baby a bonding experience through an everyday care routine.
Establish a bedtime routine
By establishing a bedtime routine at an early stage, you're not only helping your child settle into a healthy habit, you're creating important bonding time through reading books together, rocking and singing lullabies.
In-room sleeping
Sleeping with your baby close by for at least the first six months gives your baby a sense of security and helps create a strong bond. Parenting and bonding experiences don't end just because the sun is down.
Speak to your doctor if you think you are having problems bonding or caring for your baby.
More on infant bonding
How to bond with your baby
8 Ways for dads to bond with baby
5 Tips for helping siblings and baby bond