March 17 - 23 Is National Poison Prevention Week
The American Academy of Pediatrics and the U.S. Department of Health and Human Services hope to educate and bring awareness to parents and caregivers on the importance of poison safety. Each year, more than one million children under the age of 6 come in contact with a poisonous substance.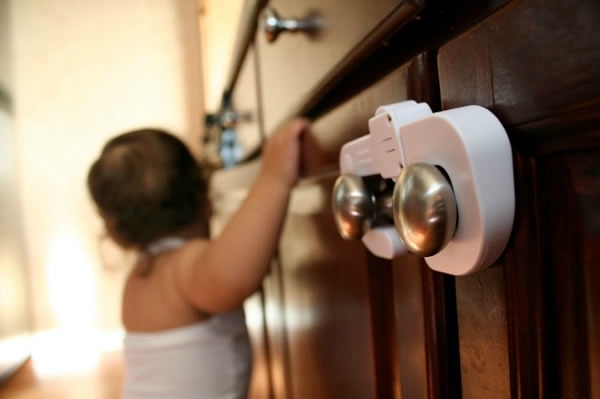 Be prepared
No matter how well you baby proof your home, you should always be prepared to contact the proper authorities in the event of an accident. The U.S. Department of Health and Human Services is urging families to program the Poison Help number into their home and cellular phones.
The Poison Help number is (800) 222-1222. This number will connect you to your local poison center in the event your child or someone near you has been poisoned or if you have concerns that someone may have been poisoned. If the poisoned child or adult is unconscious or having trouble breathing, call 9-1-1 first.
Poison prevention
According to The American Academy of Pediatrics, most poisonings occur when parents and caregivers are home but not paying attention. Poison to an infant or child can be in the form of medication, cleaning products, pesticides, furniture polish, antifreeze, gasoline, kerosene and lamp oil. It's important to take extra precaution when you have visitors staying with you from out of town or while traveling to family or a friend's house -- the holidays are an extremely dangerous time for children and poison hazards.
Store all medication, paints, pesticides and cleaners in their original packaging and in a locked container or cabinet.
Keep all hazards out of reach from infants and children.
Baby proof your home by installing safety latches.
Discard unused medication.
Store medications in containers with child-safety caps.
Check labels on infant and children medication to ensure proper dosage for your child's age and weight.
Never call medicine by a fake name, like "candy."
Never store poisonous products in food or drink storage containers.
Maintain and keep wood, coal or kerosene stoves in safe working order.
Install and test carbon monoxide detectors.
Keep items that contain small batteries (remote controls, musical children's books, musical greeting cards, hearing aids, etc.) out of your child's reach as small button-cell batteries can cause injuries if swallowed.
Poison treatment
Call 9-1-1 if your child is unresponsive, not breathing or having problems breathing. If you suspect your child has ingested poisonous materials or know that he has, call the Poison Control Center at (800) 222-1222.
The AAP cautions parents and caregivers that different types and methods of poisoning require different, immediate treatments and responses.
Ingested or swallowed poison: Remove the item from the child's mouth and have the child spit out any remaining substance. Do not make your child vomit, and do not use syrup of ipecac.
Eye poison: Flush the child's eye or eyes by holding the eyelid open. Pour a steady stream of room temperature water into the inner corner of the eye for 15 minutes.
Skin poison: Remove the child's clothes and rinse the child's skin with lukewarm water for 15 minutes or more.
Poisonous fumes: Take the child to fresh air or outside immediately. If the child stops breathing, start CPR and do not stop until someone takes over or the child can breathe on his own.
More on baby proofing your home
Holiday travel with baby -- baby proofing a new place
Childproofing your home before baby crawls
How to think like a child for baby proofing