Keep Your Baby Safe
With growing concerns over toxins and chemicals in baby toys, bottles and gear, some parents are turning to eco-friendly, non-toxic and safer alternatives for baby furniture. Here are some non-toxic, eco-friendly cribs that I like — and make me want to have another baby.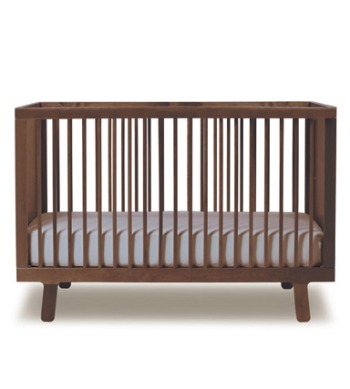 Oeuf Sparrow crib
The Oeuf Sparrow crib ($730) is a stylish, simple and modern piece to complement virtually any nursery decor. Not only is it easy to assemble, this space-saving crib has three height positions and converts to a toddler bed. Made from sustainable materials — solid birch and Baltic birch plywood — all the finishes are non-toxic and free of VOCs. As if the crib itself isn't eco-friendly enough, the product packaging is made from recycled cardboard.
Argington Sahara crib
The Argington Sahara crib ($495) is a contemporary, eco-friendly crib with a more affordable price tag. With three height positions and the option to convert it to a toddler bed, this crib will grow with your child for many years. The wood used on Argington cribs is an E-Zero birch plywood, harvested from sustainable managed forests. E-Zero is a global qualification, meaning there are no formaldehyde emissions, which is better for your baby's health — and the environment. All glues, stains and finishes are also non-toxic and low VOC.
Spot On Eicho crib
The Spot On Eicho crib ($595) is the perfect crib for the minimalist parents — wth an affordable price tag. Made in the U.S., the Eicho crib is constructed from 100 percent recycled/reclaimed and formaldehyde-free MDF with a non-toxic finish. The three height positions allow the crib to easily grow with your baby.
Bloom Alma Papa crib
The Bloom Alma Papa crib ($690) offers parents a modern look with solid wood construction and stainless steel details. Two mattress heights transform this crib into a newborn bassinet and a full-sized crib in a few easy steps. The compact fold and lockable castors allow for easy storage and transport around the house... or to grandma's house. The Alma Papa crib is MDF-free, formaldehyde-free and low VOC.
Stokke Sleepi crib
The Stokki Sleepi crib ($800) is one of only a select few eco-friendly cribs that can grow with your child up to the age of 10 — with the use of additional accessories. The oval shape of the crib, especially while in bassinet mode, cradles babies to give them a safe and welcoming sleep spot, which mimics being in the womb. The simple design looks good in any room of the house, and because of the narrow width and castors, you can move it to any room. The Stokke Sleppi crib has four mattress heights and is made of eco-friendly solid beech wood.
More on baby cribs
The new crib safety standards
The safe nursery: Choosing a safe crib
Dangerous baby sleep products: Crib bumpers?