Creating A Baby Book The Easy Way
If you're a busy mom who would love to keep a handwritten baby book but find yourself without the time, we have a solution. The Safety 1st Baby Book iPhone app makes baby books simple!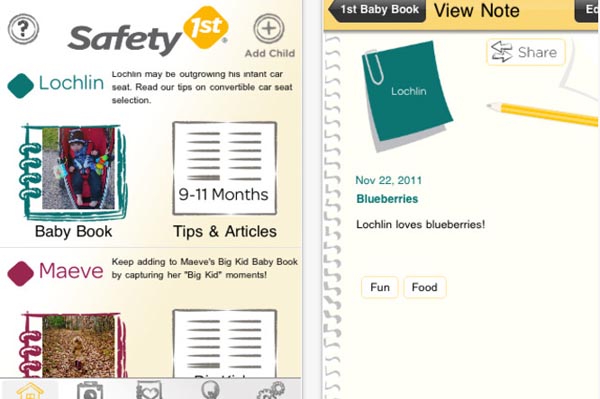 A baby book is so much fun to keep -- it serves as a recorded history of your bundle of joy's first milestones and special moments. However, as busy moms, we can't always find the time to keep the journals and baby books we'd love to have.
The Safety 1st Baby Book iPhone app is a great solution. Capture your baby's special moments in this digital baby book app. You can populate your digital baby book by taking or importing photos and adding memory notes, using tags to organize your baby's first milestones.
Features of the Safety 1st Baby Book app include:
Baby Book: Take your baby's book with you everywhere you take your iPhone (so, basically, everwhere! We're all entitled to be that mom sometimes -- the one who thinks everyone wants to see pics of our baby. You can create a first year memory book for each child and share photos and notes. You can view baby books by child, photos, notes, tags or all of the above.
Photos: Take or import photos for one or all of your baby record books. You can also save photos to your photo library.
Notes: Document precious moments and milestones.
Tags: You can assign tags to each photo and note to easily organize your baby's first checkups, first words, first steps and more. You can also create your own tags for other special memories.
Tips and Articles: Worrying is a full time job. With the Safety 1st Baby Book iPhone app, you can access child safety tips and articles specific to your child's age range to help navigate the everyday concerns of a parent. Topics include child care, home safety, childproofing and more.
Share: Social media savvy moms, this app is for you. You can share photos, notes and articles on Facebook, Twitter or email.
More helpful iPhone apps
The portable pediatrician iPhone app by Dr. Sears
iPhone app for breastfeeding moms
MommyMD iPhone app