Premature Babies Need Their Moms!
A new study finds premature babies may be less likely to experience cardiorespiratory events while listening to their mother's voice and heartbeat. But is more research needed to determine if it there's a true correlation?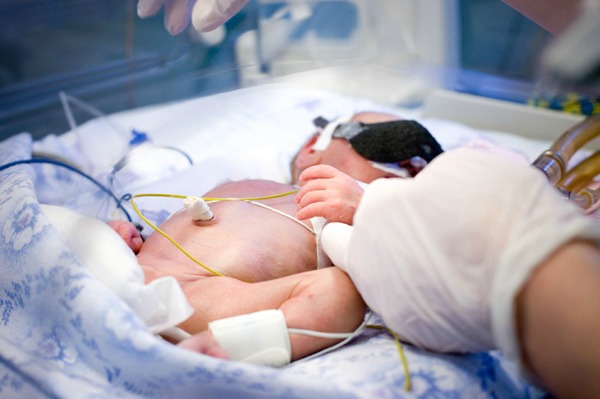 The study
The Neonatal Intensive Care Unit at Boston's Brigham Women's Hospital conducted a study on 14 premature infants -- all of whom were born between 26 and 32 weeks gestation. The study had each mother's voice and heartbeat recorded, which played four times each day for the duration of the baby's stay. The Maternal Sound Stimulation recordings were played in each infant's incubator and through a specialized micro-audio system, developed at the same hospital.
The findings
"Our findings are promising in showing that exposure to Maternal Sound Stimulation could help pre-term infants in the short term by reducing cardiorespiratory events," said the director of Brigham Women's Hospital Neonatal Research Lab and study author, Amir Lahav. "The results also suggest that there is a period of time when the infant's auditory development is most in tact [and] that this intervention of MSS could be most impactful."
Kangaroo care
This isn't the first attempt to help and bond premature babies with their parents. Kangaroo care -- the act of holding a premature baby skin to skin -- is widely known and practiced all over the world. The sounds of a mother's voice and heartbeat are said to help aid with a premature baby's development and mimic the sounds and smells of the womb.
The MSS study sounds like a great option for parents that cannot be in the NICU as often as they would like to be, but even the study's author, Lavah, added, "... given our small sample size of 14 infants, further research is needed to determine if this intervention could have an impact on the care and health of premature infants."
Somehow I don't think they will have a problem expanding this study. I don't know any mother that would decline her premature infant the sounds of her voice and heartbeat.
Source: The Journal of Maternal-Fetal and Neonatal Medicine
More on premature babies
How to prevent premature labor
Common problems associated with premature birth
Tips on bringing home your premature baby