Check Your Gerber Formula
If you use Gerber Good Start Gentle powdered infant formula, be aware that the manufacturer is voluntarily recalling some of the product. Keep reading for details.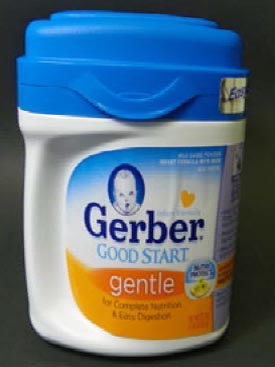 Both the FDA and Gerber have announced a voluntary product recall. Gerber Products Company is proactively recalling Gerber Good Start Gentle powdered infant formula. Specifically:
23.2 ounce plastic package
Batch GXP1684
Expiration date of March 5, 2013
Gerber is offering a replacement to consumers who purchased the affected formula.
The company states that the formula does not pose a health or safety risk. However, the formula could have an "off-odor" that some consumers notice. Additionally, some consumers reported that their babies spit up or experienced other gastrointestinal issues.
If you have Gerber formula with the batch code and expiration date noted above, please contact the Gerber Parents Resource Center at (800) 487-7763 for a replacement. Gerber is currently working with retailers to retrieve any remaining product from this batch.
The FDA and Gerber note that this recall is limited to only one Gerber Good Start Gentle powder manufacturing code. No other Gerber or Gerber Good Start products are affected or involved.
Gerber formula image credit: FDA.gov
More recalls
Recall: Bumbleride Indie and Indie Twin strollers
Recall: Lee Carter baby rattles
Recall: Dutailier drop-side cribs