Selecting Appropriate Toys For Your Baby
Before you stuff the toy box full of toys and stuffed animals, go through these important reminders and questions to ensure your baby — and you — will get the most out of the toy — and the experience together.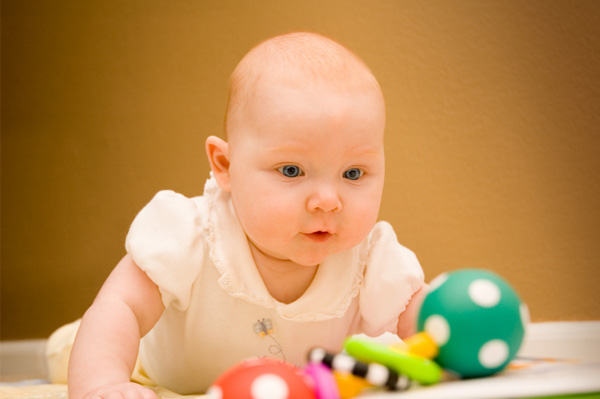 Picking the right toys for your baby
Before you buy a baby toy, ask yourself these 10 questions.
What will it teach my child?
Will it hold my child's attention?
Is it safe?
Is it annoying for me to see or hear?
Does it promote creativity and/or social interaction?
Is it non-combative and non-aggressive?
Does it foster hand-eye coordination and problem-solving skills?
Can it be enjoyed by both genders?
How many senses does it stimulate?
Will the baby enjoy playing with this toy?
While these questions are extremely important for your baby's fast-paced development, I think I would add one additional question to the list.
Is the toy age appropriate for the child and the other children in the house?
Toys and age
We have a wide range of ages in our house (2, 4 and 9), which makes it rather difficult to keep dangerous toys out of the toddler's reach — but we do it because we have to.
There's a reason why there are age requirements on toy packaging — toy manufacturers have tested their products for age requirements and safety hazards. As much as my 2-year-old wants to play with his 9-year-old brother's Lego pieces, he's not allowed. He often acts and appears older than some of his fellow 2-year-old friends (because he has older brothers), but he's still a toddler with irrational thoughts and he's still learning essential comprehension skills.
Same thing goes for infants. Babies place anything and everything in their mouths. A toy with small pieces or a toy that is meant for older children can instantly become a choking hazard.
Learning through play
The right toys can enhance a child's curiosity and teach important physical, social and emotional skills. According to the Dr. Sears website, AskDrSears.com, "the best toys are the ones that stimulate many senses and that give the child the opportunity to make things happen." When buying toys for your baby, always choose toys that build on the skills the child already has, challenges the child and is developmentally age appropriate.
Source: AskDrSears.com
More on baby toys
The safe nursery: Choosing safe baby toys
Best eco friendly baby toys
New baby toys from the Toy Fair 2012