Kushies Zolo Toys
For Baby
If you're on the hunt for back-to-basic, functional and adorable baby toys, Kushies has a lot to offer. The Zolo line of baby toys is adorable and functional -- and perfect for your little sweetie.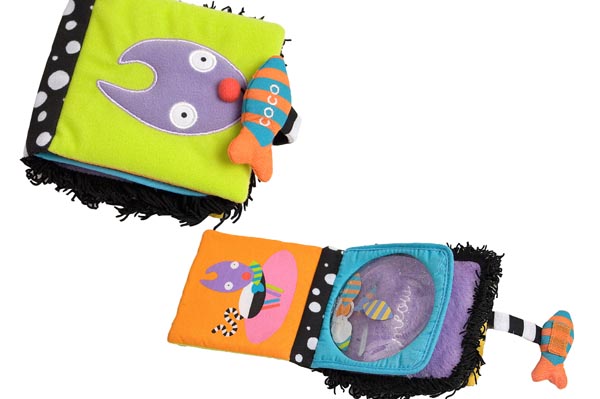 Not all baby toys are made of hard plastic, have multiple blinking lights and play extra loud music. It's hard to believe, but it's true! Kushies, a company that dates back to the 1950s, is a great smaller business (employing around 200 people) that manufactures over 350 high quality baby products.
Among those products are the baby toys -- and I'm in love. The Libro Coco Cat - Multi-Sensory Activity Book ($23, pictured above) is a colorful, multi-sensory activity book. The stimulating touch-and-feel pages include a squishy, fish-filled aquarium, a squeeze-activated 'meow' sound, a unique mirror with pretend cat nose feature and a fuzzy soft back cover complete with a kitty tail.
Contains: Squishy aquarium, 'meow' sound element, 'cat nose' mirror and a signature clip for easy attachment.
Encourages: Security, visual development, auditory development, tactile stimulation, flexible thinking.
Age: Birth and older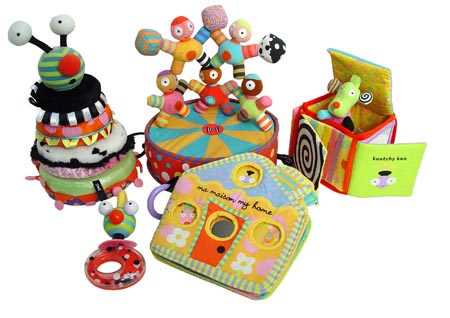 Some of my other favorites:
Boa Stacking Ring with Sounds ($45, pictured above, top left): Surprise! Squeeze each ring and guess what animal sound you hear. A stack and squeeze toy to promote tactile and auditory development with four squishy fabric rings each having a different sound & texture. When stacking is complete, its giggling head congratulates the child. Tickle, squish, stack and build your own kooky boa.
Encourages: Tactile stimulation, visual development, auditory development, flexible thinking, dexterity, explorative play.
Contains: Four cuddly squeeze-activated rings, a spine for stacking and a giggling head.
Age: 6 months and older.
Stacrobats Magnetic Stacking Acrobats ($56, pictured above, top center): Create your own circus. Build your imagination, balance and dexterity while you play. The magnetic figures, balls and base are easy to attach. Connect them in zillions of ways. Begin with simple magnetic discovery and grow to learn stacking and balance. The many ways to play and succeed encourages self-expression and builds self confidence.
Encourages: Explorative play, flexible thinking, dexterity, self-expression, self-confidence, independent play.
Contains: Five magnetic figures, three magnetic balls and a powerful magnetic base that doubles as a carrying case.
Age: 1 year and older.
More baby toys
New baby toys from the toy fair 2012
Choosing the right toys for your baby
Choosing safe baby toys