Web Domains And Email Accounts For Babies
More and more parents are reserving their child's name on the World Wide Web -- some even before he or she's conceived. But why would you do it, how do you do it and what if your child's name is already taken?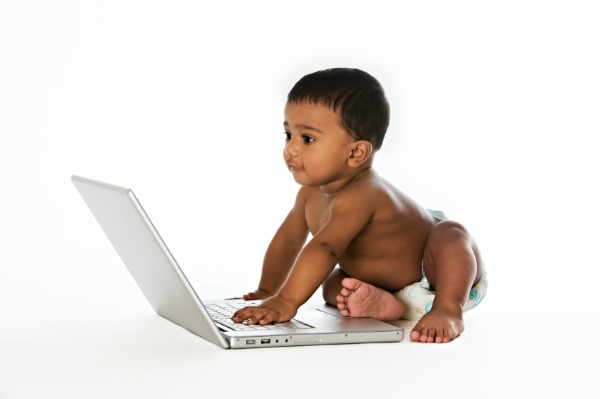 Why would you reserve a domain for your child?
Parents are starting to think ahead when it comes to their child's future – and not just which preschool waiting list to get on and when to start saving for college tuition. Personalized domains -- specifically baby names -- are being used as online photo albums, online journals and baby blogs or held to become a child's personal webpage, future resume page or future business webpage.
I've overheard some parents say they choose to reserve their child's name as a web domain for privacy and identity purposes -- they don't want their child's name used out of context or confused with someone else who happens to have the same name. Most of the parents buying domain names also choose to reserve an email address. These parents think that a personalized email address will give their child more credibility than a free email address from Google, Yahoo and the like. But really, if you're holding your child's domain name for 18+ years, what's another $5 – 10 dollars for an email address each year?
How to reserve your child's web domain
There are many sites that allow you to check availability, purchase and use or purchase and hold (park) a domain name. Here are a few popular domain sites that range anywhere from $8 to $15 per year.
GoDaddy.com
Register.com
Dotster.com
What if your child's name is already taken?
Unfortunately, with the rise in online sharing, social media and blog activity, the secret is out. If your child has a common name, chances are it's already taken. Some sites will give you creative options, but try to come up with your own creative options before giving your child something like AshleyJones01265498.com.
Add your child's middle name or middle initial
Add the year your child was born
Add a Mr. or Miss in front of your child's name
Tip: Don't include too many personal details in the web address. The last thing you want to do is make it easy for your child's identity to be stolen.
More on technology and babies
WTF?! – 81 percent of babies have an online footprint
Free Shutterfly membership and baby photo gear
Web surfing with your baby – online fun and games for young babies