Soft And Gentle
Baby Care
With more awareness of what we're putting in our bodies comes more awareness of what we're putting on our bodies. That holds true for our babies as well. Eco-conscious parents are also paying attention to the bath and lotion products they use for their babies. We've rounded up four great baby skin care product lines that take your baby's health and Mother Earth very seriously.
Little Green Baby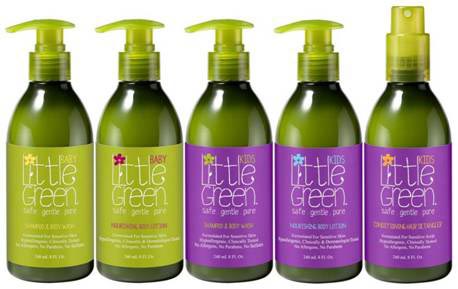 Little Green Baby is a new safe, gentle and pure hair and skin care collection for babies. The products are truly hypoallergenic, and the paraben, sulfate and allergen free formulas are each clinically and dermatologist tested. They are made for babies with sensitive skin -- or for those who simply want to treat their skin sensitively.
Little Green Baby Shampoo and Body Wash ($15): Mild, tear-free, all-in-one formula that gently cleans and nourishes your baby's hair and skin. It contains Vitamin B5 and E for moisture and protection. This shampoo and body wash is delicate enough for the most sensitive skin and provides moisture and protection.
Little Green Baby Nourishing Body Lotion ($17): Gentle moisturizer for the face and body, rich in Aloe, Vitamin B5 and Vitamin E, heals and protects. Formulated and tested to calm irritation and defend against dryness
(The company also makes a kids' line, Little Green Kids, which I love for my preschoolers. All Little Green products are great, high-quality and packaged perfectly.)
Live Clean Baby Lotion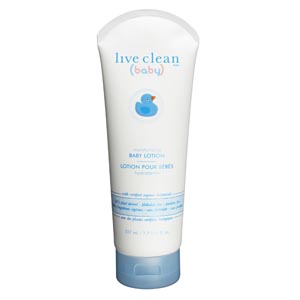 Live Clean Baby Moisturizing Baby Lotion ($8) offers all the good without the bad. Even though the environment may be to blame for that irritating itch, it is still very important to make eco-conscience efforts to protect it. This unique collection of eco-friendly baby care products is designed with your baby and the earth in mind. The certified organic botanicals of chamomile and lavender, with natural emollients and aloe, ensure performance with natural, gentle ingredients. The fast absorbing formula, with a gentle scent is sure to soothe baby all winter long.
98 percent plant ingredients
Petroleum free
Paraben and phthalate free
Hypoallergenic
Available at Walgreens retail stores and Walgreens.com
mum + bub by aden + anais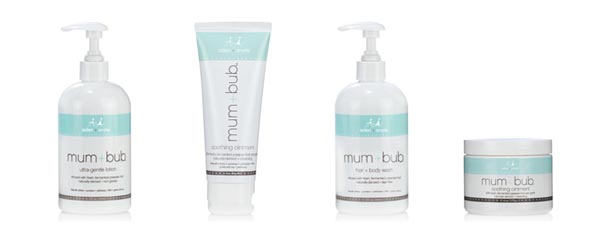 Embracing babies and parents alike with pampering products for bath and body care, aden + anais' new mum + bub collection harnesses the powers of fermented pawpaw. Pawpaw, a fruit that grows in tropical climates, has healing, soothing and protecting agents when applied topically. All mum + bub products are free of phytoestrogen, parabens, added hormone disrupters, petroleum oil, phthalates,  dioxanes from sulfates, gluten and soy, petrochemicals, DEA, and artificial colors, and are not animal tested.
hair + body wash ($16): A tear-free, mild conditioning wash that gently washes away impurities from skin and hair
ointment ($16 for a tube, $29 for a jar): A multi-purpose salve formulated with 50 percent pawpaw fruit per gram to relieve diaper rash, eczema, cuts, scrapes, minor burns, chafing and other minor skin irritations
ultra-gentle lotion ($16): A non-greasy, fast-absorbing lotion that leaves skin silky and hydrated
Mustela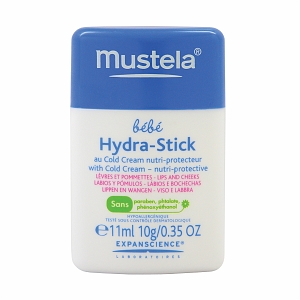 Mustela prides itself as being the skincare expert for babies and mothers-to-be. Mustela Bébé is a complete line of daily hygiene, bath time, diaper change and skin protection products which has been specially formulated for the delicate skin of babies. This product line is recommended for newborns, babies and children with normal skin for everyday use. All Mustela Bébé products are hypoallergenic, well tolerated, tested under dermatological control and are paraben-free, phthalate-free, phenoxyethanol-free and alcohol-free.
Mustela Hydra-Stick ($10): Moisturizes and protects chapped, damaged lips as well as sensitive areas of the skin (nose, forehead, etc.) exposed to cold and wind.
Mustela Hydra Bebe ($11): Daily use facial moisturizer for newborns and babies with normal skin.
tell us:
Do you have a favorite brand of baby shampoo, lotion or skin care products? Share in the comments section below.
More about skin care for babies
Winter skin care for baby
Skin care for your baby
Newborn baby skin care tips