Midlife motherhood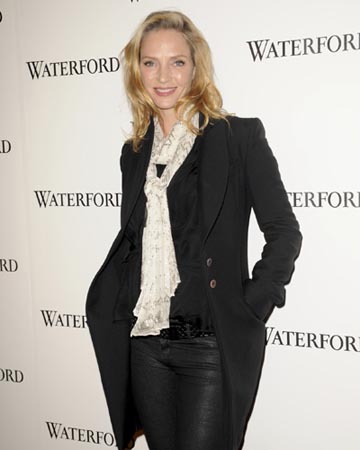 pregnant at over 40 years old
Uma Thurman joined many other women in Hollywood when she announced that she was pregnant this week. Being pregnant at 40-plus isn't all that unusual these days. In fact, lots of women, celebrity and otherwise, have babies when they're 40 or older.
Uma Thurman, 41, announced that she's expecting. The word on the street is that the baby's father is Arpad Busson. This will be his first child, but it will be Uma's third. She and ex-husband Ethan Hawke have two kids, Levon (10) and Maya (13).
Becoming pregnant at 40 or over isn't unheard of. In fact, Uma joins lots of celebs who gave birth at 40 plus, including Halle Berry, Kelly Preston, Madonna, Salma Hayek and others.
While fertility declines sharply after 40, it's not impossible to become pregnant. According to Southern California Center for Reproductive Medicine, the pregnancy rate for a woman over 40 is 5 percent per month. With in vitro fertilization, that rate increases to 10 percent. Compare that to the fertility rate for a woman in her 20s, which is 20 percent.
"Since a woman is born with all of the eggs that they will have in their lifetime, the older she gets the fewer eggs are left. In addition, as women age the percentage of genetically normal eggs remaining decreases," shares the Southern California Center for Reproductive Medicine. "This is why women have a decreasing fertility rate, increased miscarriage rate and increased chance of birth defects like Down syndrome as they age."
There are many factors to consider for women over 40 who hope to become pregnant. Following are a few.
Still, even with the risks and odds, women over 40 can become pregnant and have healthy pregnancies. If you're over 40 and considering pregnancy, talk to your doctor.
More on pregnancy over 40
5 Tips for women considering pregnancy after 40
40-Plus: Picture perfect pregnancies
Pregnancy after 40