Gentle Skin Care By Aden And Anais
Aden and Anais is an extremely popular and well-known company with parents all over the world. Their 100 percent cotton breathable muslin swaddles blankets started a revolution with moms -- we just can't get enough of these multi-purpose blankets! But now, Aden and Anais is at it again with something new… a skin care line for both mom and baby.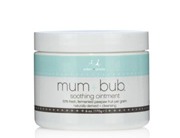 In my opinion, there can never be enough safe and gentle skin care products for babies. Coming from a family with horrible allergies and issues with sensitive skin, I appreciate these products more than you can imagine -- or maybe you can if you're anything like my kids and me! But you don't have to have sensitive skin or allergies to use and appreciate a more natural skin care product. A lot of parents are turning to products that are free from toxins and safe for their child's delicate baby skin.
Pawpaw 101
All Mum and Bub products are infused with fresh, fermented pawpaw fruit -- a tropical fruit with healing, soothing and protective abilities. Pawpaw is not a new thing -- Australians have been using this natural, healing fruit for centuries to treat diaper rash, skin irritations and chaffing.
Mum and Bub products
The hair and body wash ($16) is a mild, tear-free conditioning wash that washes away skin and hair impurities.
The multi-purpose ointment ($16 - $29) is a salve made just for diaper rash, eczema, cuts, scrapes, minor burns, and chaffing and minor skin irritations. But the real secret is out now… This salve is apparently a lifesaver for stretch marks!
Mum and Bub facts
Created in collaboration with leading New York City dermatologist, Ellen Gendler, M.D.
Ideal for gentle skin care.
None of the Mum and Bub products are tested on animals.
The lotion, ointment and body wash all have a gentle sandalwood scent.
All products are contain no phytoestrogens, parabens, added hormone disrupters, petroleum oils, phthalates, dioxanes from sulfates, gluten, soy, petrochemicals, DEA or artificial colors.
More about skin care for babies
Skin care for your baby
Winter skin care for baby
Newborn baby skin care tips