The New Guidelines For Breastfeeding
The last time the American Academy of Pediatrics updated the breastfeeding guidelines was in 2005. Yesterday, the AAP released an updated version reaffirming its stance on the importance of breastfeeding and set new guidelines and recommendations for parents and care givers.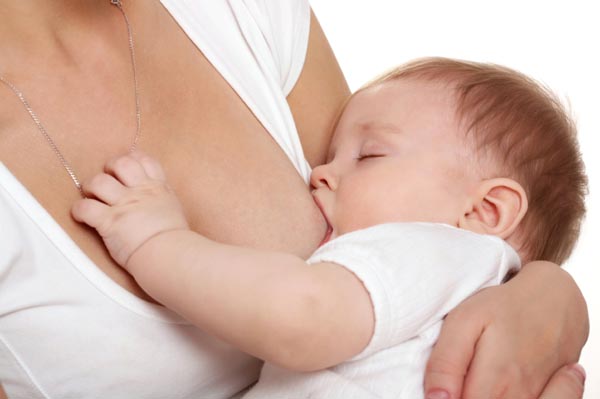 Duration of breastfeeding
The AAP recommends that mother and child should breastfeed for "one year or longer as mutually desired by mother and infant" -- which has not changed since the 2005 statement. Popular breast pump manufacturer Hygeia wants people to know that while the AAP has now removed the second part of the 2005 statement, which said "there is no upper limit to the duration of breastfeeding and no evidence of psychological or developmental harm from breastfeeding into the third year of life or longer," the World Health Organization still recommends that children continue to be breastfed until age two or beyond.
Starting solid foods
One of the big changes to the new breastfeeding guidelines is the recommendation to exclusively breastfeed for "about six months" before introducing solids. Before yesterday's statement, the AAP's guideline for introducing solid foods was between four and six months.
Breastfed babies and growth charts
All babies are charted on a growth chart at well-check appointments, but as of yesterday, the AAP is recognizing that breastfed babies "should be compared to the World Health Organization Growth Curve Standards to avoid mislabeling infants as underweight or failing to thrive."
This will hopefully help avoid the added stress and pressures of breastfeeding for new mothers and provide the necessary encouragement to continue breastfeeding. I know so many women that were asked to supplement or told to quit breastfeeding because their babies were in a low percentage for weight on the standard growth chart and in danger of "failure to thrive."
More support for breastfeeding
In the newest statement, the AAP notes "breastfeeding and human milk [are] the normative standards for infant feeding and nutrition." With all the short term and long term documented information about breastfeeding and the neurodevelopmental advantages, the AAP is reaffirming their stance on the importance of breastfeeding -- making it known that infant feeding and nutrition is a public health issue, not a lifestyle choice.
Also in the new statement, the AAP is calling for added support and advocacy from hospitals and pediatricians by urging care providers to follow the American Academy of Pediatrics endorsed "10 Steps to Successful Breastfeeding," set in place by the World Health Organization and UNICEF. The steps outline the health risks of not breastfeeding along with the economic benefits to society of breastfeeding.
Source: AAP
More on breastfeeding
Breastfeeding tips
Breastfeeding equals super strong babies -- literally!
Ten breastfeeding myths you should never fall for