Kelty Speedster Swivel Deluxe, Swivel Deuce
Another stroller recall! This time, it's the Kelty jogging stroller -- both the double and single versions. Keep reading for the recall details and to learn what to do if your stroller is included.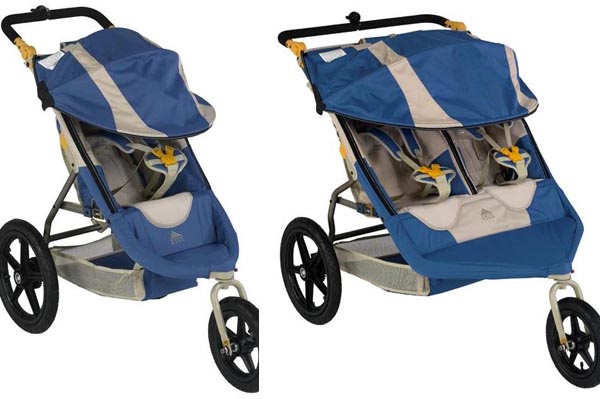 The U.S. Consumer Product Safety Commission, along with Kelty, issued a recall of single and double jogging strollers.
Product Description: Kelty Speedster Swivel Deluxe single jogging strollers and Swivel Deuce double jogging strollers are part of the recall. The strollers have an aluminum frame and a cloth seat with a canopy.
They were sold in two color combinations: blue/gray and orange/gray. "Kelty Kids" is embroidered on the front of the stroller in the child's leg area.
The model number and stroller name are printed on a tag inside the stroller's seat area.
The recalled Kelty Speedster Swivel Deluxe single jogging strollers have the following model numbers:
20090116
20090116B
20650411BLU
20650411CU
The recalled Kelty Swivel Deuce double strollers have the following model numbers:
Where/when it was sold: The recalled strollers were sold between January 2010 and February 2012 at juvenile product stores and sporting goods stores nationwide and by online retailers, including www.kelty.com, for between $375 and $475.
Reason for recall: The front wheel of the recalled Kelty strollers can come loose during use and cause the stroller to tip over, posing a fall and injury hazard to children in the stroller and adults pushing the stroller.
The CPSC notes that here have been three reported incidents involving the recalled Kelty jogging strollers that resulted in cuts, scrapes and fractured bones to adults, and minor cuts and scrapes to children.
What you need to do: Stop using the stroller immediately and contact Kelty to receive a free updated assembly and maintenance instructions.
Company information: You can call Kelty at ((866) 349-7229 between 8 a.m. and 4 p.m. Mountain, Monday through Friday, or you may visit the Kelty website.
More recalls
Recall: Bumbleride Indie and Indie Twin strollers
Recall: Lee Carter baby rattles
Recall: Dutailier drop-side cribs
Image credit: USCPSC