Kushies baby bibs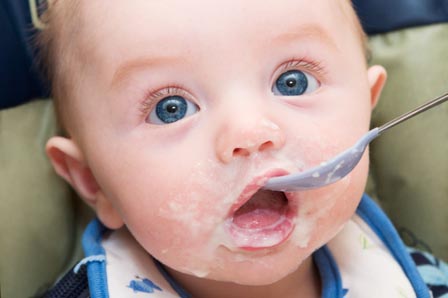 Once your baby is ready for more than just bottles or breastfeeding, things will likely get messy. If there's one thing you can count on with babies, it's that they aren't the neatest eaters!
Bibs, baby!
Unless you strip your baby down to her diaper at every mealtime -- which isn't necessarily a bad idea -- you should invest in bibs.

Bibs save your baby's clothes when it's time for "real" food. I initially bought a package of plain white cloth bibs, but I quickly found that I was washing those in the same loads of laundry as the stained clothes that were under the bibs. They just didn't cover the clothes or catch the mess.
After that, I moved on to great big bibs with little catcher "trays" and they made a huge difference. Not only did they keep my babies' (and kids' -- because they wore those things until very recently) clothes clean, but the bibs themselves were easy to clean.
I came across a cute line of baby bibs by Kushies. Here are a few of my favorites.
Waterproof bib with sleeves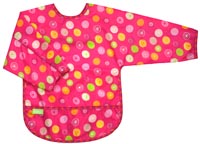 This waterproof bib with sleeves is brilliant because of the sleeves! Featuring a catch-all pocket to intercept stray pieces of food before hitting the floor and long sleeves for complete coverage, this bib can also be used as an art smock. The lightweight fabric is easy to care for and instantly re-usable -- simply rinse and wipe clean!
Sizes: Infant, Toddler, 2-4 years, 4-6 years
Price: $9.99-$13.99
Taffeta waterproof bib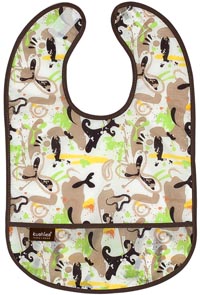 The
taffeta waterproof bib
is just like the above bib, minus the sleeves. It's re-usable and washable and the great pocket will catch stray food.
Sizes: Newborn, infant
Price: $4.99-$5.99
There are tons more -- too many to list. Stop by the
Kushies
site and do a little bib shopping!
.
More on bibs
Unique baby bibs for less messy meals
Great baby bibs
Dishwasher safe baby bibs