If Ellen Loves It, Shouldn't We All?!
In the market for a new baby carrier? Last year, Ellen featured the Kokopax baby carrier on her Mother's Day show. And if Ellen's all about it, we thought we should learn more!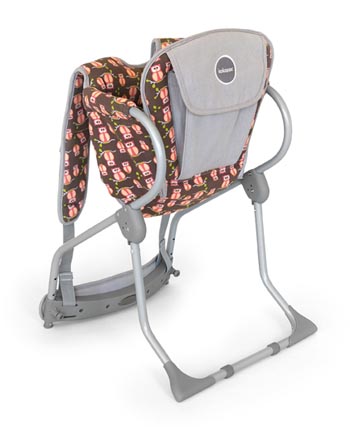 I love the story behind the Kokopax baby carrier. In 2007, Sarah Spoor was trying to keep up with her 2-year old, 1-year-old and newborn.
(Having two kids a year apart, I'm exhausted just reading about Sara having three under two...)
Sarah was introduced to the vintage lightweight carriers her parents had used when she and her siblings were babies. Sarah and her husband, Lincoln, recognized the great benefits of being able to easily carry their babies while interacting with their other children, cooking, shopping, attending school activities and traveling with ease. The baby carrier became a necessity for everyday life.
While on a trip to the Northwest, Sarah came across some beautiful fabric that inspired her to think of ways she could combine modern designs with the simple functionality of the older carriers. With this in mind, she embarked on a mission to develop a stylish, modern and lightweight framed carrier that could be used every day, everywhere.
The Kokopax carriers come in three lines:
Kokopax eco-classic carrier
100 percent cotton canvas fabric
Stowable, padded hip belt for added comfort
5-point harness
Adjustable frame
Kickstand -- simple to load and unload
Magnetic closure on the storage pocket
Lightweight anodized frame
Eco-friendly fabrics custom designed in the USA
Weighs approximately 3 pounds and fits in airline overhead bins
Includes koko carry bag
Available in six eco-friendly fabric patterns: flutter, road trip, whisper, sprout, bubbles take-two and pax
Retail: $179.99
Kokopax classic carrier -- The Original
Made with 100 percent cotton canvas
Comfortable shoulder straps and adjustable frame
Padded waist support
Handy storage pocket with button pocket closure
Kickstand for easy loading
5-point safety harness
Weighs approximately 3 pounds fits in airline overhead bins
Includes green polka-dot carry bag
Available in six custom fabric patterns: bubbles 3, peaks, watson, bubbles, espresso and licorice
Retail: $149.99
Kokopax city carrier (pictured, in Hoot)
5-point harness
Lightweight frame
Adjustable and padded shoulder straps
Sturdy kick stand for easy loading
Pocket with Velcro closure
Available in six custom fabric designs: hoot, taffy, fog, gumdrops, stones and hopscotch
Retail: $99.99
Kokopax also makes other baby products. Their diaper bag was chosen as the 2nd place winner in our 2011 SheKnows Parenting Awards!
More on baby carriers
ERGO Baby Carrier meets Petunia Pickle Bottom
New beautiful Becco Baby Carrier designs
Baby carriers