Infant Tylenol Dosing Mechanism Defect
McNeil Consumer Healthcare has issued a massive voluntary recall of Infants' Tylenol. Keep reading for details.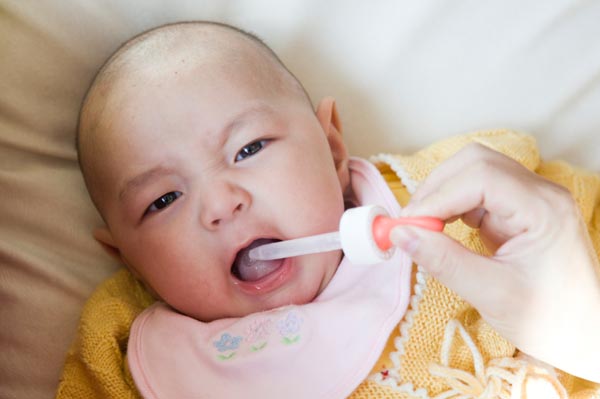 McNeil Consumer Healthcare issued a voluntary recall of Infants' TYLENOL Oral Suspension, 1 ounce Grape. The recall covers approximately 574,000 bottles of Infants' Tylenol and the following lot numbers:
BIL0U00
BIL0V00
BIL3500
BJL2D00
BJL2E00
BJL2T00
BJL2U00
The voluntary recall was issued as a precaution after the company received "a small number of complaints from consumers who reported difficulty using the Infants' TYLENOL SimpleMeasure dosing system." (via Johnson & Johnson website)
"SimpleMeasure includes a dosing syringe, which a parent or caregiver inserts into a protective cover, or "flow restrictor at the top of the bottle to measure the proper dose. In some cases, the flow restrictor was pushed into the bottle when inserting the syringe."
The good news is that no serious adverse events have been reported. Furthermore, McNeill reports that the possibility of an adverse event is remote. In fact, you can continue to use the Tylenol as long as "the flow restrictor at the top of the bottle remains in place." If the flow restrictor is pushed into the bottle, do not use it.
If the flow restrictor is pushed into the bottle, you may request a refund from McNeil on the website or you can call (888) 222-6036. Phone hours are 8 a.m. to 8 p.m. Eastern Monday through Friday and 9 a.m. to 5 p.m. Saturday and Sunday.
Infant Tylenol will apparently return to the market, although there's no estimate on when. "We are looking for various alternatives for the redesign," Johnson & Johnson spokeswoman Bonnie Jacobs said, according to MSNBC. "Once we have reviewed those options, we will set a timeline for the product to return."
More recent recalls
Recall: Dutailier drop-side cribs
Recall: Kiddieland Disney-branded Fairies Plastic Trikes
Recall: Over 400,000 B.O.B. Jogging strollers