Good Hygiene And Dental Care Should Start Early
Even though they are just baby teeth, your child's first set of teeth set the stage for the permanent secondary teeth. The spacing of future teeth, proper alignment of the jawbone and bite are all related to the care of your baby's baby teeth. These helpful tips create good hygiene practices and keep the baby teeth healthy.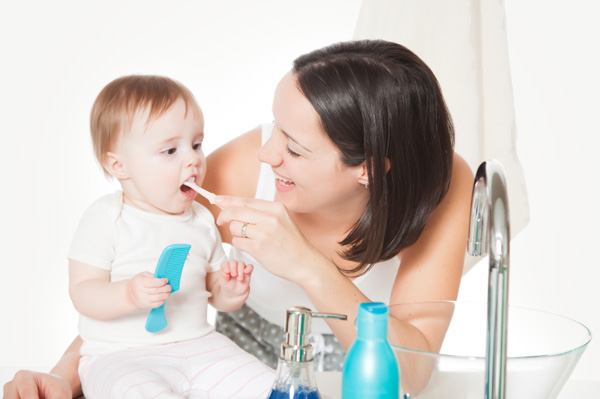 When should you start brushing your baby's teeth?
Most dentists recommend cleaning your baby's gums around six month or when teeth first appear. Our dentist suggested we start using a gum brush as early as three months to get our baby in the habit of brushing.
Tip: Use a brush specifically made for baby's gums or wrap a clean washcloth over a thin toothbrush handle to clean your baby's gums or teeth -- especially while teething. This helps avoid sharp little chompers or gums of steel from clamping down on your finger. When you say ouch or react negatively, it sends a negative connection to the act of tooth brushing.
How to get your baby to like tooth brushing time
Lead by example: Let your baby watch as your brush your teeth multiple times during the day. Allow your baby to brush his own teeth – with a follow up brush done by you of course.
Make it comfortable: Place your baby on your lap facing you or facing out at another parent. Sitting your baby on a countertop is not only dangerous, it can be a scary experience for a small child.
Create a routine: Start a routine from an early age to get your child in the habit. But don't just create a routine for the time of day that you practice tooth brushing, come up with a routine for the actual act of tooth brushing. With my boys, we started doing "ahhh" (open mouth), "eeee" (closed teeth, open lips) and "ehhh" (open mouth, sticking tongue out). This way, they know what to expect and we don't forget to brush the tongue.
Something new: A new toothbrush with your child's favorite color or character is surely to excite even an infant -- especially because it's something that you encourage them to put in their mouths.
Tip: As your child get's older, invest in an electric toothbrush. Electric toothbrushes help to properly clean teeth when a child insists on brushing his own teeth.
Toothbrush tips
Start off with a gum brush.
Graduate to a soft bristle brush made for infants and toddlers.
Keep a spare in the event the toothbrush gets lost or dirty beyond cleanable.
Change out the toothbrush when the bristles become bent (which will happen often with young children because they like to bite down while brushing).
Toothpaste tips
Start with no toothpaste.
Check with your dentist before using fluoridated toothpaste.
Opt for natural toothpaste.
Only use a pea-sized amount when you do begin using toothpaste.
More on hygiene for babies
Oral hygiene begins at birth
Health and hygiene swimming pool rules
How to germ-proof your baby - part two