The Versatile Carrier For Parents And Babies
The Stokke MyCarrier baby carrier is designed to be simple to use and to keep your child close. With organic materials and the Happy Hips seating technology, your child will be safe, secure and happy while out and about. Plus, it coordinates with all other Stokke products for fashionable interchanges between your favorite gear.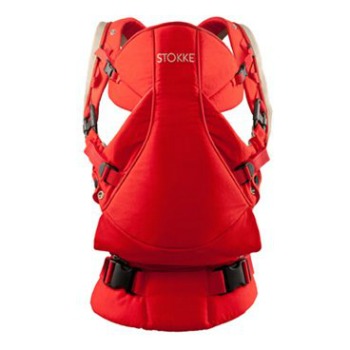 The Stokke MyCarrier is a three-in-one multi-use baby carrier that accommodates children from birth all the way to toddlerhood. With the same safety features found in high quality mountain gear, the Stokke baby carrier has high tech safety features and an ergonomic design for both parents and babies.
Made to fit every body type -- both of the parent and baby -- the Stokke MyCarrier comes complete with all the components to safely carry a baby in the forward-facing position, an infant facing outward in a front carry and a toddler in a back carry position. This is truly a carrier that grows with your child through the years.
The 3 in 1 baby carrier
Front carry (baby facing in)
Padded head support.
Adjustable carrier width for customizable support for your baby.
The "Happy Hips" feature supports baby under his or her bottom and thighs for a wide (or froggy) leg seated position.
Front carry (baby facing out)
Face baby forward to view the world from a higher vantage point.
The carrier supports under baby's bottom even while in the forward-facing position.
Ergonomically designed waist belt, back support and shoulder straps for parents to even out baby's weight -- making for a more comfortable ride.
Back Carrier
With the Back Carrier piece (included) the Stokke MyCarrier can be used for back carrying.
The adjustable shoulder straps keep your toddler safe and secure.
The chest strap adds comfort for parents while the carrier is being used in a back carry position.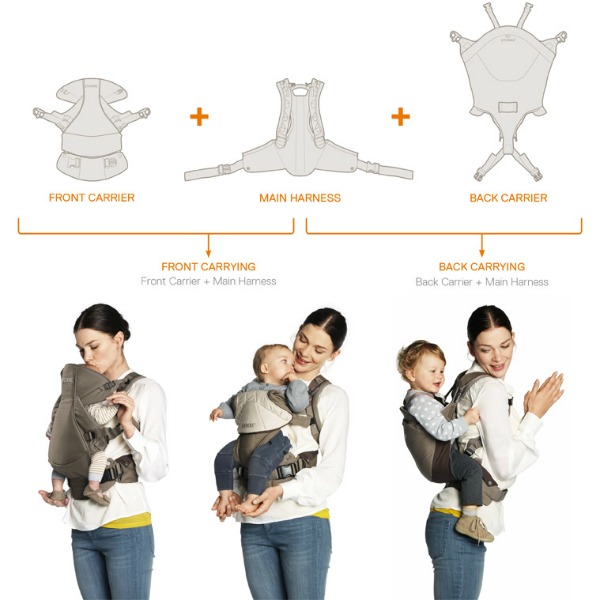 Stokke MyCarrier details
Weight minimum: 7.7 pounds
Height minimum: 21 inches
Weight maximum: 33 pounds
Height maximum: 28 inches
Keep your child in the forward-facing position until your child can hold his head up unsupported (approximately 4 months).
The back carry position is for children who can sit unsupported.
The Parent harness comes with an additional aluminum support to be used when the child is in the back carry position.
In the event that the child falls asleep while in the back carry position, a sleep hood can be attached from the carrier pocket.
Color options: Red, brown and deep navy.
100 percent organic cotton and no harmful substances.
The main harness on the Stokke MyCarrier has pockets on both sides for keys, cards and other small essentials.
The harness can be folded for easy travel.
More on baby carriers
Consider spinal stress when selecting an infant carrier
Top 4 safe baby carrier options
Choosing a baby carrier