Educational Toys
For Baby
The Toy Fair 2012 is taking place in New York City right now, and while tons of the new hot items are for kids and are tech-based, some new baby toys have been revealed.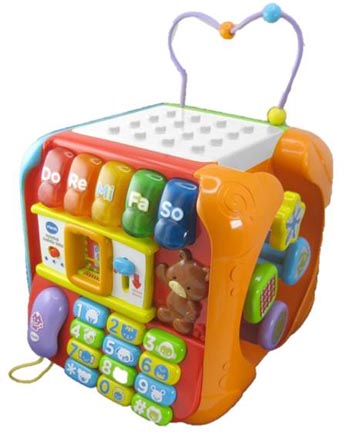 I just shared my advice about selecting toys for your baby last week -- keep it under control and carefully select your baby's toys... or risk turning your home into a nursery school, sans the kids (other than your own). Ahem, ask my husband what our home looked like one year after we became parents.
Well, the Toy Fair 2012 is underway in New York City right now. The Toy Industry Association puts on this annual event to showcase new toys for all ages. I've been looking through info on lots of new toys that will soon hit the market, and the VTech Alphabet Activity Cube caught my attention as being a potential winner for the younger set.
It is designed for babies as young as 9 months. The educational cube is equipped with many features that focus on building developmental skills. Teaching the ABCs is easy and fun while playing with the cube's 13 building blocks with all 26 letters of the alphabet on them. Each letter can be stacked on the top of the cube for building activities and the added benefit of developing fine and gross motor skills. Additionally, the building blocks can be snapped into the block reader to learn more about each letter.
The cube also features five piano keys, a number keypad and a telephone. Little ones can practice visual and verbal number recognition with the number keypad. The telephone provides opportunities for role playing and more practice with numbers. Children have fun and make music with the five piano keys, all while exercising motor skills and learning musical tones.
The other sides of the cube include exciting mechanical elements that stimulate the senses and teach cause and effect, such as a pin maze, shape sorter that leads to a storage area, sliders, turning gears, a mirror and more.
The details:
Available: Beginning in Fall 2012
Price: $49.99
Retailers: Target, Walmart, Toys 'R' Us and other retailers, as well as vtechkids.com and amazon.com
I'm a huge believer in non-battery operated toys as well -- ones that take the noise and lights out of the equation. A great article went up on the Parenting channel at SheKnows today, called Educational alternatives to annoying toys. I think if you can provide a mix of toys for your baby -- while remembering that he does not need everything! -- you'll be in a better position than I was!
More on baby toys
Choosing safe baby toys
Best eco-friendly baby toys
6 Cool green baby toys