Use Your Own Camera At Home
While I took more pictures of my firstborn, I still had the camera ready and available to take action shots of all my children, especially during their newborn stages. Here are some tips and tricks to help you take better pictures at home.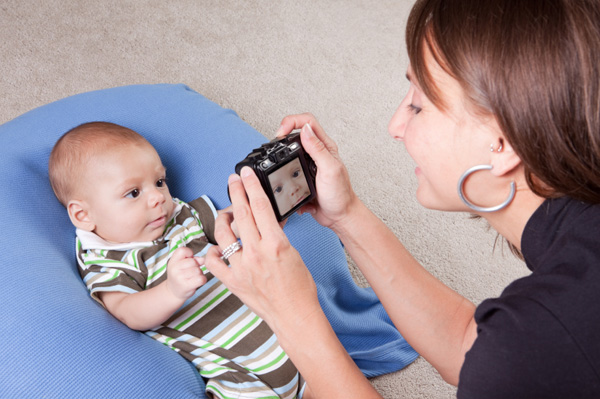 Keep your camera charged and ready
This may seem like a no-brainer, but I can't tell you how many times I went to grab for my camera only to find the battery was dead. It got to the point where I couldn't trust myself any longer, so I invested in a second battery. Now I keep one battery charging while I use the other one, and then switch them out as I go.
Another lesson I've learned is to keep my camera accessible to me… not my kids. I placed a hook just inside our garage door (which also happens to be a fairly central location in our house) so that I can grab my camera whenever my kids do something cute or when we are about to walk out the door.
Learn your camera
Check out the fliers at your local coffee shop, read up on basic tips, ask friends for help or take a class on beginning photography to help you better understand your camera and what it can do. I didn't have time to take a class, so I spent months playing around with my camera -- I don't suggest this method if you are prone to break things. In hindsight, I probably should have made time to take a class. At least it would have saved my iPhoto library from thousands of blurry and duplicate pictures.
Set up a simple home studio
After I had my new baby (okay, after all three of them), I felt the need to document my baby's every move. And to be completely honest, I've come a long way in nine years. I look back at the photos of my first child and all I see is distracting patterns, time and date stamps on the front of the photos and blankets that are in focus but a baby's face that isn't. Granted, I now have a higher quality camera, but I also now know how to use it and how to better stage my pictures. For example, a solid colored blanket, a simple background and natural lighting (along with knowing how to operate your camera's settings) are the first key starting points that I learned. If all else fails, there's always Photoshop.
If you're still stuck or need more inspiration, check out the Best photography blogs for moms. I promise you will want to become a better photographer after looking at these blogs.
What are your favorite photography tips?
More photography tips
10 Family photo opportunities
Guide to shooting portraits
Super mom's guide to the rule of thirds