Baby Toys Galore
As a new mom, it's tempting to go crazy buying toys for your baby, especially your first. After all, he needs everything, right? Not necessarily. I learned the hard way. However, you do want to have toys for your baby, so check out some of our favorites.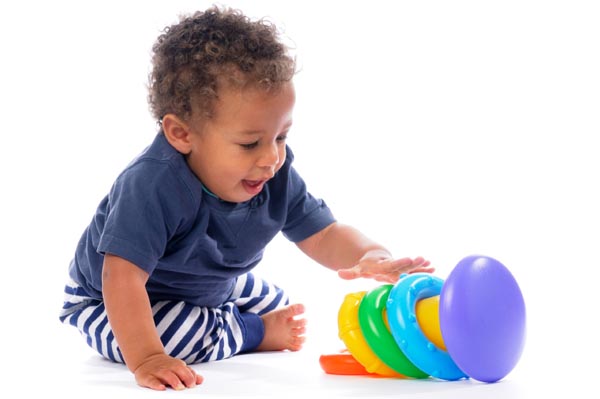 Before we adopted our kids, I vowed not to have a house that was overrun with toys. I mean, how many toys can a baby possibly need?
And then we had a 10-month-old and I couldn't get my hands on enough toys. I bought everything. Between the toys I found nearly new at my favorite resale store and the new purchases I made, it progressed to the point where we'd walk down the baby aisles in Target, pointing to the baby toys we already owned. I'd say a solid 75 percent of what was on the shelves was also in our home.
When my son was 2 years old and my daughter 12 months old, we moved states. I spent days purging nearly two-thirds of the toy collection. Our home looked like a day care center. We had every outdoor baby and toddler toy invented. Both the first and second floors in our home were overrun with toy boxes and shelves and more.
I saw the error of my ways (buying every single toy ever manufactured) and vowed to put an end to that sort of toy purchasing behavior before my kids were old enough to become spoiled by it.
With that being said, I do firmly believe that babies need toys. They can be as simple as wood stacking blocks and rings to the busier battery operated ones. In my opinion, the necessary requirements are: (1) educational in some way; (2) fun; (3) don't drive Mom and Dad insane; (4) memorable.
My kids did have favorite baby toys and those are and will always be planted in the back of my memory: a little turtle that sang when you pushed his shapes and a bus that played "The Wheels on the Bus."
I've come across some super cute baby and toddler toys recently and if I was crazy enough to have or adopt a third baby, these would be on the (short) list.
Swirl & Roll Truck ($20)

This toy reminds me of my son's little turtle, just based on the motions and sounds and shapes. Drop balls into the exhaust pipe to hear silly sounds.
The balls spin as the truck is pushed and they pop out of the back of the truck. It plays sounds and has buttons that light up with vivid, bright colors. Press the three light-up buttons to learn colors, shapes and hear fun truck sounds and phrases.
Get Rollin' Activity Table ($45)
Don't judge -- we had three activity tables that were very similar to his one. This particular activity table features over 60 songs and activities across eight unique play areas to encourage learning and imagination. The Get Rollin' Activity Table has both "Learning" and "Play" modes and bilingual learning in English and Spanish.
We actually used both the Spanish and English modes. And hey, my kids could count to 20 in Spanish really early, so...
Do you have any favorite toys for your baby?
More on baby toys
Choosing safe baby toys
Best eco-friendly baby toys
6 Cool green baby toys