Safe, Non-Toxic Playtime
The Oshi mat is the newest eco-friendly multipurpose mat for babies and parents. The simple design allows parents to sit in multiple and comfortable positions next to baby while playing or while in a parent and baby class.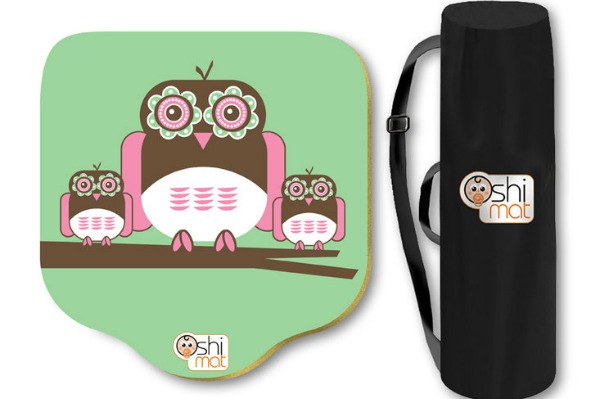 A safer play mat
The latex-free, PVC-free and non-toxic materials of the Oshi mat ensure a safe environment for baby, while the moisture-free elements keep baby safe from potential bacteria growth. With the concern of toxic or allergy-causing materials on the rise, parents are seeking safer alternatives to everything their baby touches, including play mats. Babies as young as one month benefit greatly from neck strengthening exercises, like tummy time. But as every parent knows, a one-month-old baby on her tummy spends a lot of time with her face very close to the surface she is laying on -- closely breathing in whatever the surface is made of.
A comfortable play mat
The Oshi mat's high-density foam provides comfort and support for a baby but is light enough for a mom or dad to carry from place to place. Each Oshi mat comes with a low profile carry bag similar to a yoga mat bag – with one short strap and one over-the-shoulder strap. There are optional Oshi Eco Bags available for a small additional cost.
Oshi mat uses
With the use of multiple Oshi mats, parents can assemble a safe, padded and fun larger play area for babies, toddler and older children. Although, there are multiple uses for even just one Oshi mat.
Developmental education: Music classes, mommy and me yoga, etc.
Tummy time
Diaper changing
Playtime
Napping
Outings
Snacking
Traveling
Time outs/discipline
Benefits of the Oshi mat
Eco-friendly
Easy to clean
PVC-free, latex-free and non-toxic
Lightweight
Water-repellant
Cold/temperature-resistant
Wipes clean, dries fast
More eco-friendly baby items
Eco-friendly toys for baby
Choosing eco-friendly toys for your baby
Tips for buying organic baby clothing