Two New Cameleon
Color Combos
Two new Bugaboo strollers hit the market this week and we thought you might want to learn all about them. The Cameleon is now available in two limited edition colors. Swoon!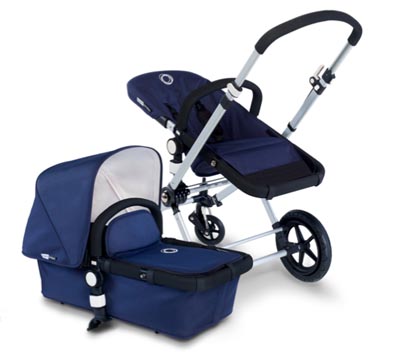 Limited edition Giggle Bugaboo Cameleon
Bugaboo's Cameleon in navy is a popular option, so mamas are certain to fall in love with the navy and off-white combo that Giggle and Bugaboo teamed up to create. This modern twist on the classic Bugaboo Cameleon in navy is bright and stylish. The inside of the navy blue canopy is lined with off-white, brightening up all your on-the-go moments.
You can purchase it on the Giggle website for $979. Accessories include:
Bugaboo footmuff in off-white ($130)
Bugaboo seat liner in off-white ($60)
Bugaboo parasol in off-white ($40)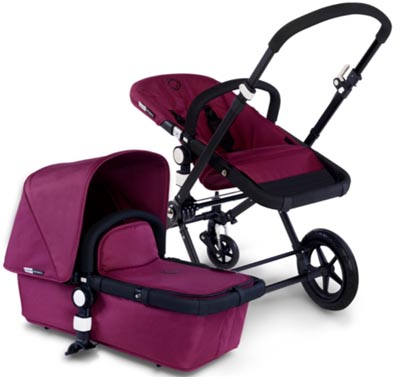 Bugaboo Cameleon Deep Purple
The Bugaboo Cameleon is a high end stroller that's perfect for parents who want it all with no compromise. The Cameleon handles all different terrains and it certainly does it in style!
Bugaboo says the new Deep Purple color "will have you singing the Purple Rain soundtrack while you breeze through the park turning heads" -- and we have to agree.
You can purchase the Bugaboo Cameleon Deep Purple on BuyBuyBaby.com and in Buy Buy Baby retail stores for $1,129.
Bugaboo is a Product RED partner, meaning the company contributes 1 percent of all revenue (across all products) to the Global Fund to help eliminate AIDS in Africa. Product RED's goal is to eliminate mother to child HIV- transmission by 2015.
More strollers
By now, you know we love strollers at Pregnancy and Baby. While strollers like these by Bugaboo are ah-mazing, we also know they're pricey. The good thing about strollers these days is that they seem to be like handbags -- there's one for every budget. Read some of the latest info on strollers.
Stroller buying guide: There are so many stroller options -- jogging, lightweight, double, sit and stand, umbrella... the list goes on. Read an overview of each and determine what will best fit your needs.
Choosing a safe stroller: Looks and convenience are only a few small considerations. Safety is the biggest.
How to get fit with stroller workouts. Your stroller can be the key to getting your pre-baby body back. Find out how.