Baby Rattle Recalled For Choking Hazard
Tens of thousands of baby rattles were recalled because they pose a choking hazard. Keep reading to learn the details and ensure your baby's safety.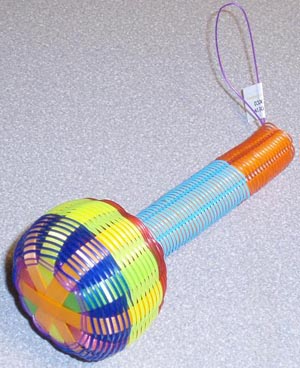 The U.S. Consumer Product Safety Commission, along with Lee Carter Co., issued a recall of baby rattles. Do you have one of these baby rattles in your home? If so, it's time to take it away from your baby.
Product Description: Lee Carter Co., of San Francisco, California, issued a recall of 25,000 baby rattles. The woven plastic rattles are multicolored, approximately 4.5 inches in length and have a bell inside.
A purple plastic loop located the end of the rattle has a tag with the following print: "Made in Mexico" and "Lee Carter Company."
Where/when it was sold: The recalled rattles were sold between February 2001 and October 2011 at specialty craft stores for $4 each.
Reason for recall: The handle on the rattle is small enough to fit in our baby's mouth. This poses a choking hazard. The size also violates federal standards for rattles. While no injuries have been reported to the USCPSC, you shouldn't allow your baby to use this rattle.
What you need to do: Take it away! Contact the company for a refund or credit.
Company information: You can call Lee Carter Co. collect at (415) 824-2004 or you may visit the Lee Carter company website.
Editor Notes: The same company, in cooperation with the USCPSC, recalled over 7,000 packages of children's action toys for lead paint standard violations. If you have older children, ensure you don't have those products in your home.
More recalls
Recall: Dutailier drop-side cribs
Recall: Kiddieland Disney-branded Fairies Plastic Trikes
Recall: Over 400,000 B.O.B. Jogging strollers
Image credit: USCPSC