Organic Bath And Body Care For The Entire Family
Maclaren is continuing to branch out! No longer are they just a top name for lightweight, practical strollers -- Maclaren is adding to their collection of baby gear, nursery furniture, baby bedding, baby care and toys with even more organic bath and body products.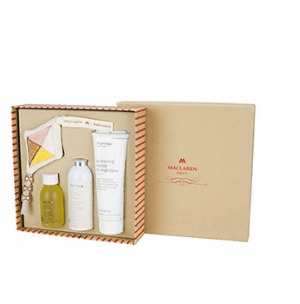 The award-winning Maclaren Beginning collection now offers everyday personal care products for the whole family -- not just baby.
Maclaren Beginnings collection benefits
Natural and gentle
Holistic with real therapeutic purposes
Made of the purest ingredients
Safe for sensitive skin
Maclaren Beginning everyday collection
Replenish Body Lotion
The replenish body lotion is specially formulated for delicate, sensitive skin and is enriched with the moisturizing benefits of avocado, almond and chamomile oils. This everyday water-based, non-greasy lotion is perfect for mom, dad and baby.
Gentle Softening Shampoo
The comforting blend of soothing lavender, restorative mandarin essential oils, hydrating aloe and glycerin make the softening shampoo gentle enough for a tiny newborn. The mild ingredients cleanse and moisturize the hair and scalp with their healing properties.
Gentle Moisturizing Hair Conditioner
The Beginning gentle conditioner is made to compliment the gentle shampoo with its blend of mandarin oil, aloe vera juice oil and glycerin. This specially formulated combination of holistic and therapeutic ingredients is lightweight in texture and leaves hair moisturized and hydrated with a light lavender scent.
Hydrating Lip and Cheek Balm
The multi-purpose Beginning balm has a distinct blend of organic shea butter, bees wax, jojoba oil and is infused with lavender, which leaves lips and cheeks hydrated and moisturized. The lip and cheek balm is made with natural vitamin E to shield and protect the entire family's sensitive skin.
Indulging Body Butter
The rich and buttery Beginning body butter provides an intense dry skin treatment perfect for new parents who are constantly wash their hands after changing and caring for baby. The lightweight texture allows the body butter to absorb quickly and won't leave a greasy residue on your baby or you.
Gentle Cleansing Face and Body Wipes
The alcohol-free cleansing wipes from the Maclaren Beginning collection are made from soft organic cotton and are lightly scented with the naturally cleansing lavender oil. These all-purpose wipes are gentle enough for use on body and face, leaving the skin clean, fresh and stress-free.
More organic baby
Making organic baby food
Tips for buying organic baby clothing
Going green: Options for your baby