Safe And Practical Accessories
Car seat accessories can make a parent's life easier and a baby's ride more enjoyable. These practical car seat accessories do the job safely and make every ride smoother.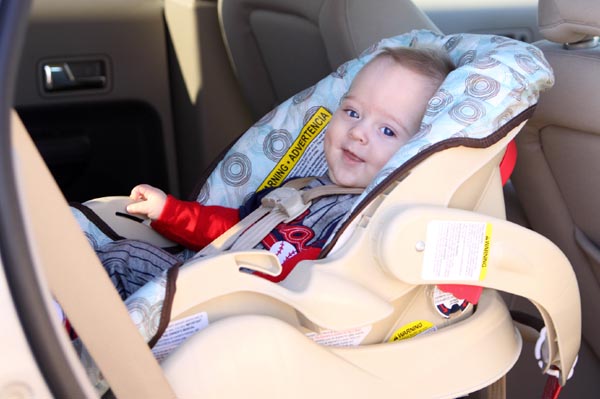 The most important rule for car seat accessories is to make sure you follow manufacturers' guidelines. Only use accessories that are compatible with the seat, tested for safety and approved for your child's car seat. Some accessories actually void the manufacturers warranty and can be contrary to the ridged safety standards of the seat, making it unsafe for your child.
With that said, I wanted to share my favorite car seat accessories that are compatible with specific seats or safe for use with most car seats.
Britax Head and Body Support Pillow
I'm thrilled to see that Britax has acquired a head and body support and safety tested it with their car seats (and strollers). For many years, moms and manufacturers have questioned the safety of support pillows accessories. The Britax support pillow will be available in February 2012 and offers full body and contoured head support for newborns and grows with your child.
The reversible design keeps your child warm with a plush fleece or cools your child with a moisture-wicking fabric. The Britax head and body support pillow is crash tested and approved for all Britax infant car seats, Britax convertible car seats, the Britax Parkway SGL booster seat and Britax B-series strollers.
Summer Infant CozyUp
The Summer Infant CozyUp provides parents with a safe way to keep baby warm while in an infant car seat. The use of thick jackets, thick blankets or anything that comes between baby and the car seat or baby and the harness straps (that is not safety approved by the manufacturer) is considered unsafe and can void the manufacturer's warranty of your car seat. The CozyUp fits safely over an infant car seat to provide baby with warmth and protection from outside elements. The reversible cover has a wind and water resistant shell and has a handy storage pocket for small mom or baby essentials.
More must-haves
I also love the following car seat accessories:
More info on car seats
New California booster seat law in effect Jan. 1
Top 10 car seat safety tips
Summer Infant Prodigy: The first smart infant car seat