Easter Baskets For Babies And Toddlers
Filling an Easter basket for your school-aged kids may be as easy as grabbing some candy. Since chocolate bunnies just won't do for babies or toddlers, the Easter Bunny may be stumped when it comes to stocking a basket for your littlest Easter fan. Check out our list of 30 Easter basket ideas your little bunny is sure to love!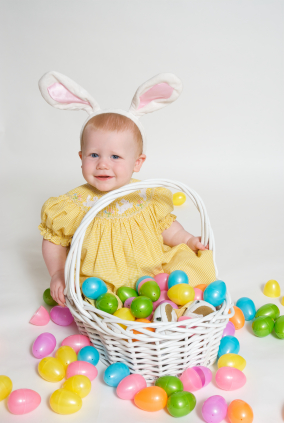 Some parents stick to a theme for their child's Easter basket, while others fill their baby's basket with goodie that are guaranteed to please. "This year the Easter Bunny will help celebrate my daughter's first Easter by filling her basket with some teething toys and organic treats such as yogurt melts and crackers," says Ann Ewing, San Carlos, California. "She really enjoys the tasty treats while the healthy snacks make Mommy and Daddy happy."
Before you spring into action, discover more baby-friendly Easter basket treats for your little bunny:
30 Easter basket ideas for babies & toddlers
Personalize each basket's contents with your darling babe's name, such as a monogrammed blanket and a bib, personalized t-shirt, and Easter egg basket featuring his moniker
Magnet-backed toys offer plenty of fridge-fun while helping you get Easter dinner on the table
Baskets filled with the same items in designated colors for each of your kiddies allow you to individualize multiple children's treats while keeping things unified
Movies such as Baby Einstein provide stimulation and entertainment
Cuddly new friends such as a stuffed bunny toy, a Spring chick beanie baby, and other plush pals
Bouncy balls that are small enough for little hands but too big to pose a choking hazard help develop fine motor skills
Beach themed items such as balls, sunglasses, sunscreen, and sandals
Soft photo albums made especially for baby filled with family photos
A plush T-Rex, dino jammies, and board books about the prehistoric creatures
Sleepy-time items such as light cotton pj's, a nightlight, and a new nighttime pal
A basket filled with toys that feature melodies and lights
Outdoor play like bubbles and an umbrella to clamp on a stroller or wagon
Your baby's first tool box filled with plastic tools also doubles as a basket
A Cat-in-the-Hat-themed fun with a variety of the classic books, plush characters, and videos such as Horton Hears a Who
A basket filled with bath toys offers good, clean fun
Age-appropriate pool items, such as a mini wading pool, swimsuit, water wings, and ocean animals
A large plastic dump truck with toys and soft, chunky plastic cars made just for his size
Slip a variety of rattles into his basket for a Spring surprise
A music-themed basket filled with CDs, baby videos, and small music instruments made for tiny hands
Add a few new bottles, sippy cups, and small cups to his Easter treats
Sandbox-themed baskets filled with pails, shovels, sifters, and more
A basket filled with his first wooden blocks
Babies love bubbles, such as Gymboree's Bubble Oodles which are more durable than the average bottle of bubbles
Board books, touch and learn books, or See Me! Picture books
Large Lego sets make a colorful addition to any Easter basket
Items to finish off his nursery, such as a switch plate cover, wall art, and coordinated storage containers
Plastic eggs filled with pacifiers, teething rings, teething relief gel, and wash cloths for gnawing offer teething-related relief
Soft spoons, colorful bowls, hold-it-himself cups, and disposable bibs are practical but colorful feeding-focused extras
Board books, toys, and stuffed animals that spotlight the season of renewal
New Spring duds, colorful, rolled-up socks, and a sun hat
Don't forget to add tasty treats to baby's Easter basket! Baby-friendly munchies like Gerber puffs, teething toast, and freeze-dried fruits can offer an alternative to candy. Happy Spring!
Should you get your child a bunny rabbit as a pet? Get tips here before you buy.
More Easter fun:
-How to plan a safe and fun Easter for baby
-Kids craft: Make your own Easter basket