Christmas Or Holiday Time Savers For Moms, Including Tips For Budget-Friendly And Easy House Decoration, Cooking And More!
This holiday season you may find your to-do list getting longer and longer while the days get shorter and shorter. If you still have some details to wrap up, these time-saving tools can help you get it all done in time for your festive celebrations.
Tiernan McKay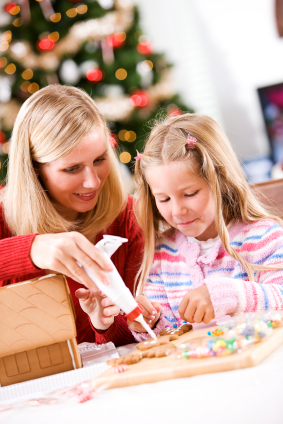 Team up for childcare
We all know how much longer it takes to get anything done with kids in tow. The only sure-fire way to speed up the process is to go solo. Partner with another mom or group of moms to trade baby-sitting for shopping, cleaning or baking time. Most will be thrilled to help since it means free time for them as well.
 
Click, click, click
The closer we get to Christmas, the better the deals get online. Plus, a ton of online stores offer last minute free shipping! If you just cannot manage to get to the mall (or just don't want to go), get online STAT!
 
Bulk up
Buy-in-bulk and discount stores aren't just for toilet paper and paper towels! When you find a book, DVD or toy you like, why not buy several (especially if you find a great deal!)? Sure, it's nice to be creative and come up with unique gifts for everyone, but that takes a lot of time and even more running around. Think: "Simplify."
 
Pot-luck
Throwing a last-minute holiday party this season? Consider writing the words POT-LUCK on the invite. It's always fun to share holiday recipes and your prep time will be drastically reduced. Your friends and family will appreciate you for hosting the party, which is enough work to begin with!
 
Repurpose decorations
Rather than buy new ornaments for the tree, try making your own with this quick and easy technique. Cut thick slices of fruit (it's best to use citrus: lemons, grapefruit and oranges), place them on a baking sheet and put in a 150 degree oven for 4-5 hours. When they have cooled, place a string of raffia or a ribbon through the holes, tie and hang on the tree. Have ornaments you aren't using from last year? Place them in a glass bowl with some pine cones and use as a centerpiece.
 
Take the easy route
Don't complicate your life with complicated holiday recipes. Stick with familiar fare with a bit of holiday "spice." Try adding simple white frosting and silver sprinkles or crushed peppermints to sugar cookies (there is nothing wrong with using refrigerated, prepared cookie dough). You can even add a dash of cinnamon or nutmeg to pasta sauce to give spaghetti or pizza a holiday flavor. Oh, and schedule an afternoon to complete all of your holiday baking rather than dragging it out over two or three days.
 
Love leftovers
When you are preparing for guests, cleaning the house for a party or running endless errands, making dinner for the family becomes a dreaded task (not to mention the mess!). Try cooking large meals that can be spread out over a day or two so that the family can heat up their grub when they're hungry. You can also grab frozen lasagna or roast chicken from the market to suppress their appetites between holiday parties.
 
Light and bright
Keep your hands party-ready by sticking with light-colored nail polish. Dark purple or burgundy may be trendy, but cracks and chips are hazardous and unsightly. The constant touch-ups needed to keep your fingers presentable are serious time-suckers. Stick to a light pink, nude or other pale-colored polish and don't forget the top coat. 
Be your own stylist
The hardest part of attending a holiday party can be picking an outfit. Rather than fret an hour before your soiree, spend an afternoon putting together your party frock prior to the big night (or nights). Grab a hanger for every party you will attend and hang your outfit for that night. Save even more time by labeling small plastic bags with the jewelry for each outfit. When the time comes, you will be ready in a snap.
For more Christmas tips: