Are You Looking For The Perfect Christmas Or Holiday Gift? Check Out Our Gift Guide With Over 50 Unique Gift Ideas For Babies, Girls, Boys Mom Or Dads All Under $100.
Are you looking for the perfect Christmas or holiday gift? Check out our gift guide with over 50 unique gift ideas for babies, girls, boys mom or dads all under $100.
P&B Editor
All items below can be found at CSN stores (www.csn.com), which have brought together over 200 e-boutiques to allow you to easily get your shopping done in one spot. How easy is that?
Hurry and order! CSN stores is offering 15% off any of their 200 plus sites (CSNBaby.com, Cookware.com, Luggage.com, AllModern.com) to P&B readers. Check out their complete list here.
Enter promo code: PABCSN
**Offer expires Saturday, December 13th.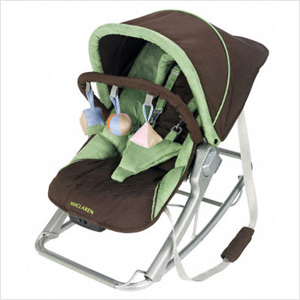 Babies:
Under $50
1. Bumbo - Babysitter Seat in Lilac - $33.99
This seat's innovative design supports the correct spinal development of an infant.
2. Sweet Potato Lu Lu Musical Mobile By Glenna Jean, $33.85 
LuLu by Glenna Jean is a luxurious Crib Bedding collection without the big price.
3. Lamo Bootie Set in Sand, $24
Featuring sheepskin lining and a cushioned insole, this bootie set also includes mittens and a hat.
4. edushape Spinner Mini Rainbomaker Toy Musical Instrument, $11
The Spinner Mini Rainbomaker is a fun, education toy that teaches babies the 'principles of cause and effect.'
5. Combi Dakota Booster Seat in Keylime Green,$39.99
Lightweight and portable, this trendy booster seat accommodates children 33–100 lbs. and is ideal for carpooling.
Over $50
6. BumbleRide Carrycot with FootMuff and Stroller Liner.  Available in Seagrass (Green), Lava (Black), Viti (Hot Pink) and Ruby, $99.99                                                                                               New for 2009, the Bumbleride Carrycot combines the luxury of a bassinet with the ease of a baby carrier.
7. Maclaren 2009 Rocker, $89.95 (pictured)
This easy-to-transport lightweight rocker comes with a removable faux suede head hugger.
8. Ferm Living Story Mobile of Organic Cotton, $63.75
Made of 100 percent organic cotton, the adorable, trendy figurines are bound to entertain for hours.
9. Glenna Jean - Rosebud Hooked Wool Rug, $73.85
This classic cream hooked wool rug is decorated with green and pink roses in a diamond pattern and is perfect for any nursery.
10. KidKraft - Deluxe Garage Playset, $94.99 
This huge playset is one of our best reviewed kid's toys. Follow the link to see all the great things our shoppers are saying about it.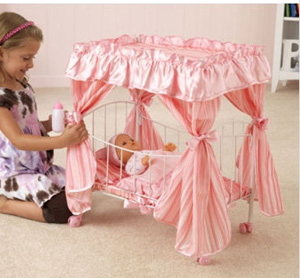 Young Girls:
Under $50
1. Sevi - Six String Guitar - $43.20
This bright multicolored, wooden guitar is just the right size for kindergarteners, and has 6 strings, which can be tuned just like a real guitar.
2. DollKraft by KidKraft - Comfy & Cozy Canopy Toy Bed for Dolls- $45.95 (pictured)
Doll furniture is proving to be an '09 best seller for young girls. This bed set comes with a mattress, pillow, blanket, and safety rails.
3. Skooba Design - Skooba Skin Laptop Sleeve in Blank "DIY" Canvas - $22
Your young one will be a school yard original with this do-it-yourself tote.
4. Lisa LeLeu - Diggity the Dog Puppet Show Book - $24.99
This interactive toy features a hand puppet, a story book, a coloring book, and a fun, puppet show DVD.
5. Lucy and Michael - William Child Apron in Primary Stripes - $16
Enjoy creating kitchen memories with your little tike in this fun, striped Lucy and Michael Apron.
Over $50
6. LeapFrog - Leapster 2 Learning System - $76.99
LeapFrog is a leading designer, developer and marketer of innovative, technology-based educational products.
7. ALEX Toys - Magnetic Artist Easel Set - $90
Let your little one's creative side shine with the Magnetic Artist Easel. Dual-sided with several storage shelves, this easel is perfect for multiple-child households.
8. Atlantic - Ego Ice Portable iPod Speaker System - $98.99
Ideal for the shower or pool, this portable speaker system is waterproof, spill-proof, and shatter-proof.
9. Offi - Siamese Cat Pet Lamp in Hot Pink - $59
Featuring a non-toxic molded plastic construction, this charming pet lamp is brought to life by a low voltage replaceable bulb that bathes the room in soft light.
10. Step2 - Art Master Activity Desk - $79.99
This set will become your child's "home office." The perfect room accent, this desk is sure to encourage creative habits.
Young Boys: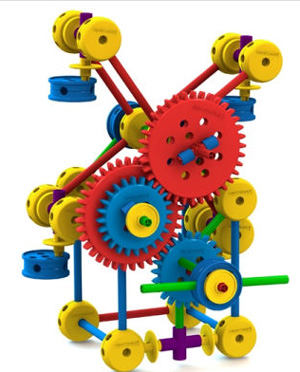 Under $50
1. Zoobies - Bubba the Black Bear Travel Blanket and Pillow - $27.99
Bound to become your child's best friend, Bubba is not only an adorable teddy bear, but also a comfy pillow and super-soft blanket all in one.
2. Sassafras - Kid's Dexter the Dog Plush Pull-a-Long - $25
This soft, adorable animal bag easily becomes a convenient backpack just by removing the trolley.
3. Harley-Davidson Footwear - Kid's Rune in Black - $40
Harley-Davidson footwear captures the spirit of independence and adventure rumbling at the heart of the Harley-Davidson Legend.
4. Wonderworld - Mini Tower Crane - $49.99
The brand new, green Mini Tower Crane is made from environmentally friendly rubberwood, non-toxic water-based paints and biodegradable fabrics.
5. Bazoongi Kids – Special Edition Rocket "Blast Off" Play Tent - $22.99
Blast off! Imaginations will be stretched and friends and memories will be made with this rocket play tent.
Over $50
6. Radio Flyer - EZ–Rider - $89.99
This brand new scooter by iconic ride-on toy maker Radio Flyer features an extra wide base for maximum stability.
7.Aigle - Children's Lolly Pop Motif in Camouflage- $56.95
Extremely durable with a rubber exterior, these boots are also super comfy, featuring a 100% cotton lining.
8. Superstructs - Wacky Machines Building 175 Piece Set - $59.99 (pictured)
Create creative, fully-functioning machines and models with this 175 piece set.
9. Educational Insights - GeoVision Telescope and Microscope Set - $72.95
Featuring a microscope, a telescope, professionally prepared slides and more, this is the ideal set for the young scientist.
10. CHH - 3 in 1 Game Set in Oak - $59.99
Featuring chess, checkers and backgammon, this set has plenty of games that will keep your kids entertained for hours.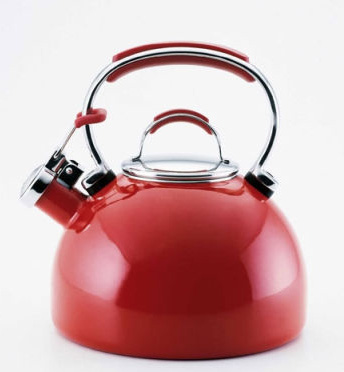 Moms:
Under $50
1. Pet Gear - Pet Bike Basket - $44.99
Take your pet everywhere! This pet basket can be carried over your shoulder, attached to a bike, snapped into the backseat of a car, and is also suitable for flights.
2. KitchenAid Cookware - Gourmet Essentials 2.25 Quart Soft Grip Tea Kettle - $39.95
This stainless steel tea kettle features a colorful enamel exterior that is durable and easy to clean.
3. Lite Source - Bellona One Light Table Lamp - $41.99
This playful table lamp is perfect for anyone young at heart and looking for a fun, funky way to light up a home.
4. Metrokane - Complete Cheeseboard Service - $39.99
A cheeseboard crafted of the finest quality bamboo and stainless steel sculpted tools put this set in a class of its own.
5. Stellanova - 4" Blue Floating Globe - $38.99
This revolutionary new globe from Stellanova levitates between two magnets for a breathtaking visual effect.
Over $50
6. Snoozer Body Pillow - Snoozer Dreamweaver Hypoallergenic Full Body Pillow - $53.99
This brand new, hypoallergenic pillow promotes proper spinal alignment and healthier body circulation while you sleep.
7. 4D Concepts - Deluxe Single Shoe Cabinet - $56.99
De-clutter your closet with this shoe cabinet from 4D Concepts. A swivel door opens to a three-tier storage rack system designed to hold up to 12 pairs of shoes.
8. Howard Miller – Morrison Wall Clock - $67.87
This contemporary rectangular wood wall clock features a curved front with recessed brushed nickel bands.
9. Royce Leather - Art Women's Credit Card Clutch - $64.99
Secure, safe and stylish - just the way your money and cards should be kept.
10. Menu - Lovorika Banovic Pipette Glass with Tray - $79.90
Use these pipette glasses for oil and vinegar for salads, maple syrup and honey for breakfast or pesto and truffle oil for Italian dishes!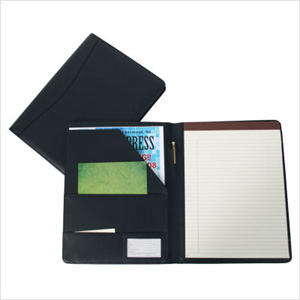 Dads:
Under $50
1. McGowan - Tuftop Rainbow Trout Cutting Board - $19.95
This multi-functional must-have makes for a decorative and effective counter protector, centerpiece, hot pad, cutting board, serving board, cheese tray, pastry tray, or kitchen decoration.
2. Texas Irons - Rockin Dad Pictorial Steak Brand - $23.70
This fun grilling accessory brands steaks and burgers with a 'DAD' insignia.
3. J Fit - Total Upper Body Workout Bar - $27.99
This multi function training bar combines every exercise you need to build a powerful upper body.
4. Clava Leather - Tuscan Golf Ball Carrier - $42.99
Available in Tan, Black, and Café, this ball carrier holds ten golf balls a nine tees.
5. Royce Leather - Bonded Leather Padfolio - $40 (pictured)
This practical, budget-conscious leather padfolio features an ID window, a business card slip, and an additional pocket and flap with a ruled 8 1/2" x 11" pad.
Over $50
6. Patio Perfect - Eucalyptus Swing Lounger with Pillow - $99
Made from the finest hardwoods, this patio essential is ideal for dads that need a break-cation every now and then.
7. Handpresso - Handpresso Wild Handheld Espresso Maker - $99.99
This portable espresso machine ensures that a quality cup of joe is always just a few pumps away. This is the perfect camping accessory for the hiker with everything.
8. J Fit - Complete Workout Travel Kit - $70.99
Travel light with this compact, portable workout system. The J Fit travel kit includes an arm bar, 5 different resistant cords, a door anchor, two ankle straps, and a carry bag.
9. Ravenscroft Crystal - Distiller 12 oz. Single Malt Tumbler Glass (Set of 4) - $79.96
Each Ravenscroft Distiller Glass is hand blown by old world craftsmen for a developed palate.
10. Honeywell Safes - Digital Anti-Theft Safe - 1.06 cu. ft. - $79.99
Featuring a programmable digital lock and 1+ cubic feet of interior storage, this is the ideal safe for small, valuable keep-sakes.

For more Christmas gift ideas: