Pregnancy Travel Tips, Including Safety Tips And Ways To Stay Comfortable When Traveling Pregnant
How late in pregnancy can you fly on an airplane? What about travel overseas when you are pregnant? Should you get vaccinations during pregnancy before traveling? If you are like many pregnant women, you have many questions as to what is safe and what is unsafe when traveling while expecting. The good news is that most travel for pregnant women is safe during a certain period of time in their pregnancy. But before you pack your bags you'll want to plan out your trip to ensure that it's one to remember.
Tracy McGinnis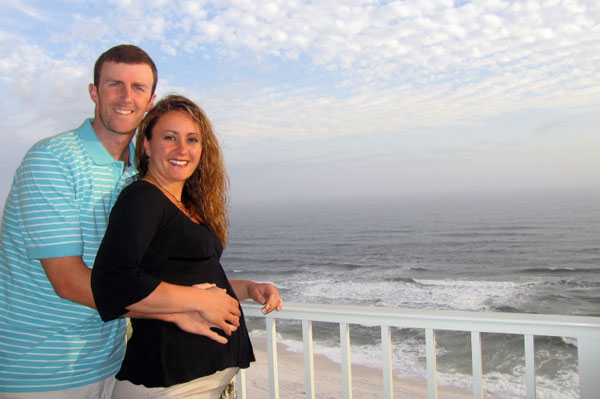 Dr. Kenneth Johnson, associate professor of obstetrics and gynecology at Nova Southeastern University in Fort Lauderdale, Fla. says that in general air travel is okay during pregnancy. "But common sense dictates that women with complicated pregnancies involving twins, hypertensive disease, severe nausea, placenta previa, pre-term labor and other pregnancy-related complications should not fly," he says.
Relax
Taking a trip to get away can help reduce stress during your pregnancy, but experts like Amy Graff,  Best Western's family travel expert and editor of www.OnthegowithAmy.com, say this is a time to slow down while on vacation. "Book a reasonable travel itinerary - for example, a nonstop flight to a close-to-home destination. Also, incorporate naps, reading by the pool, and quiet evenings with room service into your daily routine."
Talk to your doctor
 "Check with your obstetrician to see if there are any special precautions you should take when traveling – especially if you're going outside of North America or Western Europe (in which case, special immunizations or medications might be recommended,)" says Dr. Margaret Lewin, Medical Director of Cinergy Health.
"Evaluate your risks," adds Dr. Marjorie Greenfield, a practicing board-certified obstetrician-gynecologist, and associate professor of Obstetrics and Gynecology at Case Western Reserve University School of Medicine.
"Up until about 36 weeks, a healthy woman with an uncomplicated pregnancy has only a small risk of developing a pregnancy complication while away from home," says Greenfield. "A woman with a higher risk pregnancy, a prior preterm birth, or whose cervix is opening up already, however, should not travel."
Greenfield also adds that trips to remote locations are generally not a good idea at any time during your pregnancy, and are most risky during your first trimester.
Get vaccinated
"Since you'll be exposed to a lot of people, maximize your defenses against infections," adds Lewin, who also suggests getting the H1N1 and seasonal influenza before travel and using a commercially prepared nasal spray during the trip. "To keep your breathing passages moist and better able to resist infection."
Get more tips here on protecting yourself against the flu (including H1N1 Swine flu) when pregnant.
Be honest with yourself and your overall help before booking your trip and be sure to locate a doctor at your vacation destination. 
Hydrate
Air on an airplane can be dry and dehydrating so pregnant women will want to pack a few extra water bottles for the trip. Dr. Greenfield suggests avoiding airplane ice which can contain high levels of germs.
"Extra fluids will also help eliminate Braxton Hicks 'false labor' pains," adds Dr. Johnson.
Find out the difference between Braxton Hicks contractions and real labor here.
Move around
Whether traveling by car or plane make sure to get up and move every few hours and allow yourself enough room to move around comfortably in your seat and get quick access to a bathroom if flying.
Experts like Dr. Greenfield suggest walking the aisles of an airplane every 2-3 hours to prevent blood from pooling in your legs. "The risk of blood clots in the legs or lungs increases during pregnancy."
If you're driving, Graff suggests getting out every 90 minutes to stretch and she suggests this – "From a sitting or standing position, extend your leg - heel first - and gently point and flex your foot to stretch your calf muscles. Then, while seated, rotate your ankles and wiggle your toes."
Consider wearing compression socks
Paul Amatangello, co-founder of AmesWalker Hosiery advises women wear compression travel socks.
"Physicians recommend wearing graduated compression leg wear which applies decreasing pressure from the ankle to the knee, forcing blood to the leg's deep veins, reducing pooling of blood and maintaining proper flow rate of blood to the heart and lungs."
Talk with your doctor to find out if compression travel socks are right for you.
Eat right
Avoid fast food drive-thru meals and choose healthy alternatives to help curb your pregnancy cravings while on the road.
"Eat frequent, small meals to avoid hypoglycemia and nausea," says Johnson.
Find out 10 more ways to stop pregnancy nausea or morning sickness.
Prepare
Let loved ones and friends know where you are going, how long you'll be gone and the best way to reach you. When booking your flight be sure to ask the airlines if there are any rules or restrictions when it comes to pregnant passengers and let them know of any special accommodations you'll need ahead of time. (Request aisle or bulkhead seats for maximum space.)
Along with your favorite shoes pack your medical records and any medications you are taking in case you need to visit a hospital or doctor while you're away.
And most importantly speak up, says Dr. Johnson. "If you begin to have regular painful contractions, inform the crew (and those around you) early."
Pack right
"Pregnancy makes you susceptible to thrush and humid climates make the situation worse," says Dr. Graff.  "Wearing cotton pants and loose cotton layers help avoid the problem."
What about packing the right shoes? Larry Schwartz, a certified pedorthist and CEO of Aetrex suggests wearing the right shoes. "The footwear should provide extra arch and be sure it is not too narrow or short, which will constrict circulation."
Get more tips here on finding stylish and comfortable maternity travel clothes
For more tips on pregnancy travel: