10 Ways To Keep Your Baby Happy And Calm When Traveling By Car, Train Or Airplane
Do you long for the days when you could toss everything you needed for a weekend away into one bag and take the long way to your destination? With a baby in tow, those carefree trips are a thing of the past. Now you pack everything baby owns and pray she won't spend the entire journey screaming at the top of her lungs. For a stress-free trip, check out our 10 tips to keep baby happy when traveling.
Mary Fetzer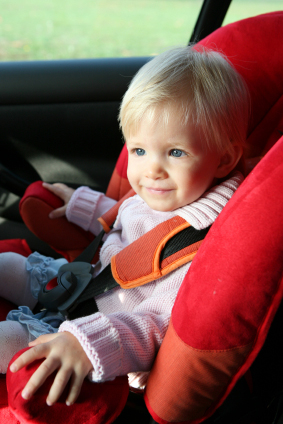 Traveling isn't much fun for baby. She's confined to a safety seat and can't stretch or roll over. She doesn't know when to nap, eat or play. The interruption of her daily routine makes her unhappy, but that doesn't mean you have to stay home. Here's how you can enjoy a stress-free getaway with a happy little traveler:
1. Timing is everything
Corinne McDermott, founder of Have Baby Will Travel (www.havebabywilltravel.com), tells parents it's important to "time it right" when traveling with baby.
For many babies, a car seat is like a sedative. They fall asleep almost instantly and stay asleep until the car has stopped. If you're traveling by day, your sleeping baby will be wide awake when everyone else is ready to hit the sack! Drive when your baby normally sleeps. "Leaving in the middle of the night may not seem fun at the time," says McDermott, "but it may well be worth it by the next night."
You have less flexibility when traveling by air. McDermott suggests arranging your flights based on two things – "when your baby is the most cheerful and/or when she is likely to sleep." Some babies do well on overnight flights while others do better when they're well rested. "You know your child best," advises McDermott, "so make arrangements accordingly."
2. Feed baby
Becca Lee travels with her two kids and no other adult. Her advice for flying with an infant? "Breastfeed, breastfeed, breastfeed."  Tuck baby under a blanket near your breast, and she'll eat and rest comfortably. To avoid painful earaches, baby should be sucking on breast, bottle or pacifier during take-off and landing.
Baby should be secured in her seat whenever you're traveling by car. You can't safely breastfeed while the car is in motion. Pack small bottles of water, breastmilk or formula so you don't have to stop every time your baby is hungry.
If she's eating solids, bring them along for the ride. Your baby can safely snack on Cheerios – just keep a close eye on her to prevent choking.
3. Bring toys
When it comes to toys, pack enough to keep baby busy for the duration of your journey. "Keep a variety of toys to rotate through," says professional organizer Julie Bavington. "Babies can get bored with a toy faster in the car than at home."
They toys should be new… or at least seem new to baby. "The dollar store is great for trinket-y toys," suggests McDermott, "and if they're lost or broken, it's not a big deal." If you don't want to invest in new toys, "stash away a few favorites for a month or so before your trip and re-introduce them along the way."
"Products that attach to their car seats, the car, or themselves are great," advises Bavington. "There's nothing worse than baby dropping his favorite toy while you are driving down the interstate."
"Choosing quiet toys is key," advises Tracy Fanslow, mom of four little travelers. Toys that rattle, squeak or make electronic noises will grate on your nerves and everyone else's, too. If you offer soft, silent toys, you'll keep your sanity and "your seat-neighbors will thank you," says Fanslow.
4. Turn on the music
"As an infant, my daughter went everywhere with us," says Beth Liberman, who frequently traveled to and from Israel. Liberman found that repetitive songs like Old MacDonald and The Wheels on the Bus would immediately stop her fussing.
Load up your iPod with baby-friendly tunes you can play in the car or on the plane. Use lullabies to encourage naps and upbeat tunes to keep baby smiling. And don't underestimate the effect of your own voice – singing will soothe and entertain her.
5. Keep baby company
Baby is going to get lonely in the backseat, especially if she's in a rear-facing car seat. Whenever she's awake, sit beside her and entertain her with stories, songs and peek-a-boo. Or hang a mirror so she can keep herself company!
When flying, consider keeping baby close so she feels calm and secure. The Baby K-tan carrier keeps your baby close to your body and safe from germs while leaving your arms and hands free.
6. Keep baby comfortable
"It doesn't take long for babies to get hot and uncomfortable in safety seats," warns McDermott. "Check the temperature, and use a window screen to keep the sun at bay."  The Car Window Shade Rollup ($5.95) and Sunscreen Film ($4.95) from Tee-Zed's Dream Baby® protect your baby from the sun's damaging rays and glare. A light blanket is just as effective to cover the infant seat and block out light.
7. Pack a change of clothes
Consider how many times a day you change baby's soiled clothes. Think about how often you change your own clothes after baby makes a mess. The stinky, smelly stuff causes even more discomfort when you're traveling. Pack at least one change of clothes for both you and your baby, and make sure they're easily accessible in the car or in your carry-on bag for the plane.
8. Take breaks
Build in some stops and breaks as you plan your trip, and be prepared for unplanned stops, too. "Baby will need to be fed and changed, and you'll need to stretch your legs," says McDermott. When considering layovers, think about how much time you'll need between flights to tend to baby and make your way through the airport. Your trip may take longer, but you'll all be happier once you arrive.
9. Be safe
"A very significant early step in preparing for travel with babies is the correct installation and usage of safety seats," advises Chris Cochran of the California Office of Traffic Safety. "Between 70 and 90 percent of child safety seats are installed incorrectly by parents, leaving children vulnerable in the event of a crash." Every state has trained child safety seat technicians who will show you how to correctly install your baby's seat in your car. To find one in your area, go to www.nhtsa.dot.gov/cps/cpsfitting/index.cfm.
When traveling by air, buy a seat for your baby and bring their FAA-approved car seat. "It's safer," reminds Fanslow, "and you can enjoy a beverage on a bumpy flight without worrying about a baby in your lap. A comfortable, safe baby is a happy traveling baby."
10. Expect the worst and hope for the best
Even the smallest babies sense when you're tense, so make an effort to keep your cool. "Traveling can fray your nerves," reminds McDermott. "People are rude, flights get delayed and drinks get spilled. If you're mentally prepared to go with the flow, baby will follow your cues – or at least you'll be ready to cope when she doesn't!"
For more baby travel tips: